Find Ancestors
Welcome to the Genes Reunited community boards!
The Genes Reunited community is made up of millions of people with similar interests. Discover your family history and make life long friends along the way.
You will find a close knit but welcoming group of keen genealogists all prepared to offer advice and help to new members.
And it's not all serious business. The boards are often a place to relax and be entertained by all kinds of subjects.
The Genes community will go out of their way to help you, so don't be shy about asking for help.
Quick Search
Single word search
Genes Extras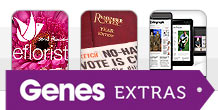 As a way of saying thank you to our subscribers, we have launched Genes Extras. You'll find exclusive competitions and discounts on family history magazines, days out and much more.
Icons
New posts
No new posts
Thread closed
Stickied, new posts
Stickied, no new posts
Lookup offer for Australia
Profile
Posted by
Options
Post Date

۞ Cherilyn ۞
Report
24 Oct 2012 09:58

Hi Kathleen

A search on the NSW State Records of probate records shows Chas Arthur Bentham 1957, Walter Bentham 1959 and Wm Bentham 1960...not Fredk or Rose though (weren't they in Victoria?).

See http://www.records.nsw.gov.au/state-archives/research-topics/death-records/death-records

Gins
Report
24 Oct 2012 09:31

Hi Cherilyn

Would you mind taking a look at this please


http://www.genesreunited.co.uk/boards/board/ancestors/thread/1312983

Thank you :-)

Researching:
You fill up my senses Like a gallon of Magnet Like a packet of Woodbines Like a good pinch of snuff Like a night out in Sheffield Like a greasy chip butty Like Sheffield United Come fill me again....Na Na Na Naa Naa Naaaaa, ooo! Sung to 'Annies Song' (Tune)

Bernard
Report
23 Oct 2012 15:21

Hello Cherilyn,
I have been in touch with you previously regarding Frederick Bentham and his wife Rose. I am wondering if there is a site regarding wills which have been listed in New South Wales. We obtained a copy of his grandfather William Iveson's will. It was fantastic. It gave details of his family and had also been contested twice in the Courts of Chancery, London. The family won the case, rather than the bank manager.
Kathleen

۞ Cherilyn ۞
Report
23 Oct 2012 02:00

nudge

۞ Cherilyn ۞
Report
16 Oct 2012 09:25

Hi Virgina

How can I help? Did they come to Australia?



Virgina
Report
15 Oct 2012 20:45

In 1952, while I was 6 months old, my grandfather left his French family to take care of his daughter in London who was conceived with a Belgian lady during the Second World War while he was a prisoner.
I would like to contact her for knowing her story and to present her brother ( my father ) Albert who is 88-years-old today and who would like to get acquainted before he is too late. It is the only link that he stays in her with his father ( my grandfather )
I would like that she speaks to me about this grandfather that I did not know and I could also make her discover mister Turner's book " Forgotten of 39/45 " of which his father is a member
My grandfather Albert Hall was born May 8th, 1896 in London and lived in 3 Dupree Road with his father John and her mother Jessie Imry.
In 1914, he undertook in the English army, came to fight in France until 1918 and with his regiment freed(released) Abscon, a small village situated in the North of France where was my grandmother Louise Daubresse.
It was the love at first sight (lightning stroke), they got married in 1920 and had a child in 1924: Albert my father.
Everything was well until the day when my grandfather is taken by German in 1940 during the Second World War. It is then that his Calvary began.
Of Huy in Belgium, he is taken to Tost in Germany 1943.
In 15/11/43 he arrives in France at Giromagny, then at Vittel before leaving to Portugal where he was the object of an exchange against German prisoners. Hereturned in England and undertook in the American army till the end of the war.
He returned in France in 1946 but in 1952 while I was only 6 months old, he left in England to take care of a girl would be called maybe Irène and who was conceived during her captivity with a Belgian woman.
It is the day of the funeral of my grandfather the 29/11/1963 that my relatives (parents) learnt her existence.
She was 19 years old in 1963, she was a primary school teacher; it is all that I know!


Address of my grandfather in 1963: 31 Northern Road Camberwell to goiner (Borough council)
Address of his nephew Jack Hall in 1963: 312 Crystal Palace Road London SE22
Address of his(her) nephew Albert Hall in 1972: 62 Monmouth road the Hague Middlesex N such: London 01-573 1371 that I knew and which(who) came to my marriage
----------------------------------------------------------------------------------------------------------------------------------------------------------------------------------------------------
Addresses in the letter that my grandfather sent my parents
THE COTTAGE 1 Rodmill Lane London SW2 Sulina Rd
4 SW1 London 22/2/1953 PLACE DENBIGH
Ansdell Road London SE15 82 5.1 / 31 1958
Northcross ROAD SE22 London 27/10 /1960
---------------------------------------------------------------------------------------------------------------------------------------
Here are the informations about my English family I would like to know the descendants
My grand-father Albert had one brother Fred Archer born in 1887 and two sisters, Maud born 1889 and Jessie born in 1892
Albert's father was known as John Hall, but his real name is Israel John Hall, and he was born in Russia in 1858.
Sadly, John died in early 1901, when Albert was 4 years old.
In the 1901 census, the family lived in a housing consists of two parts only 13 Lollard Street, Lambeth, London.
Jessie, a widow at age 36, working as a sewing machinist (Sewing), Fred, 14, worked as a packer tea (he put the tea bags) in a grocery store, Maud was 12, Jessie 9, Albert and 4 years.
Maud was married to Percy Johnson in Lambeth St Mary Church August 14, 1915.
She was 26 years old, she worked as a cook, and Lived to 77 Lambeth Road,


۞ Cherilyn ۞
Report
15 Oct 2012 01:48

nudge

Ceedee
Report
8 Oct 2012 07:24

You never know what you will find in a family do you thats why its so interesting and a bit of an obsession. Thanks so much for all your help.
regards.
Carol :) x


Researching:
Evans Scoullar Gibbs Westlake Spedderi/Spiteri Sullivan Dougherty/Doherty Carney/Kearney Beck Griffiths Nesbitt

۞ Cherilyn ۞
Report
8 Oct 2012 07:12

How awful. His poor wife too. :(

Ceedee
Report
8 Oct 2012 04:25

Oh Cherilyn, I found where Victor Scoullar died aged 25, so looked up papers past and he died either accidently falling from a train or deliberate. I think with his record it was probably suicide.
Poor boy

Researching:
Evans Scoullar Gibbs Westlake Spedderi/Spiteri Sullivan Dougherty/Doherty Carney/Kearney Beck Griffiths Nesbitt

۞ Cherilyn ۞
Report
8 Oct 2012 02:50

HI again

Hope you are still checking...just found Victor's WWI enlistment. Could he be a son of Arthur jnr?

SCOULLAR Victor Emmanuel : Service Number - 105 : Place of Birth - Wellington New Zealand : Place of Enlistment - Sydney NSW : Next of Kin - (Father) SCOULLAR Arthur W

He was 24 when he enlisted in 1914. He was a motor driver. HIs father, as next of kin, had the address of Featherstone St, Wellington. Hope this rings a bell! (Unfortunately, or fortunately depending on how you look at it!, he did not embark, and was charged with desertion.)

His NZ birth:
1891/9562 Scoullar Victor Emmanuel / Harriet Amanda / Arthur William

Arthur & Hart married in 1891; he died in 1956 aged 88, which means he is the one who was born in 1868, son of Arthur & Eliza Jane! So Victor was their grandson :-)

Have you checked out www.archway.archives.govt.nz/ ? You can order Arthur & Eliza Jane's probates and also download NZ WWI records, plus some other bits and pieces. Enjoy! :-D

Ceedee
Report
7 Oct 2012 20:46

Cherilyn your amazing, Yes thats them and Arthur was the businessman. I don't know if the Victor is any connection that I've heard of but you never know! I'm so thrilled. Thankyou.

Researching:
Evans Scoullar Gibbs Westlake Spedderi/Spiteri Sullivan Dougherty/Doherty Carney/Kearney Beck Griffiths Nesbitt

۞ Cherilyn ۞
Report
7 Oct 2012 08:14

Yes that makes sense, Donaldson/Dunstan.

Here's their emigration from Victoria to NZ with John, Annabella and baby Amelia, in case you don't have it:

SCOULLER A 32 GOTHENBURG I FEB 1863 OTAGO FEB 1863 009
SCOULLER —- MRS 28 GOTHENBURG I FEB 1863 OTAGO FEB 1863 009
SCOULLER —- CHILD WITH 5 GOTHENBURG I FEB 1863 OTAGO FEB 1863 009
SCOULLER —- CHILD WITH 3 GOTHENBURG I FEB 1863 OTAGO FEB 1863 009
SCOULLER —- INFANT WITH I GOTHENBURG I FEB 1863 OTAGO FEB 1863 009


۞ Cherilyn ۞
Report
7 Oct 2012 08:07

From PapersPast:

Otago Daily Times , Issue 6307, 29 April 1882, Page 2
DEATH.
On the 25th April, at York place, Florence, the beloved daughter of Arthur and Eliza Jane Scoullar, of typhoid fever; aged 17 years.

Otago Daily Times , Issue 7557, 7 May 1886, Page 2
MARRIAGE.
On the 26th April (Easter Monday), at St. Pauls Church, by the Venerable Archdeacon Edwards, Edmund James to Amelia, second daughter of Arthur Scoullar, of this city.

There is also a photo of Arthur there from around this period, with a very impressive beard!

Star , Issue 6521, 26 June 1899, Page 3
The death is announced of Mr A. Scoullar, of the firm of Messrs Scoullar and Chisholm. Mr. Scoullar, who was formerly a prominent Dunedin citizen, was seventy years of age.

Auckland Star, Volume LVIII, Issue 167, 18 July 1927, Page 9
MR. ALEXANDER SCOULLAR.
(By Telegraph -Press Association.) WELLINGTON, Sunday. Mr. Alexander Scoullar, second son of the founder of the firm of Scoullar, Chisholm, and Company, furniture manufacturers, of Wellington and Dunedin, died to-day. He leaves a widow and one son.


Any connection?

The Sydney Morning Herald, Wednesday 30 September 1914
SCOULLAR-RENAUT.-September 25, 1914, at Christ Church, Sydney, by the Rev. Clive Statham, Victor, eldest son of Mr. and Mrs. Arthur Scoullar, of New Zealand, to Linda, only daughter of Mr. and Mrs. Charles Renaut, of Blayney.


Ceedee
Report
7 Oct 2012 07:58

Hi Cherilyn,
We always wondered if she had two living sons as one was John Dunston and the other John Donaldson, it was probably a mix up between Dunston / Donaldson somewhere along the line, mistakes were made weren' they?. We think Arthur scoullar adopted him.Not too sure on that one. Some of the family have Dunston and some Donaldson in their childrens names. Thankyou so much you have been a great help. I appreciate it a lot.
Kind regards.
Carol.

Researching:
Evans Scoullar Gibbs Westlake Spedderi/Spiteri Sullivan Dougherty/Doherty Carney/Kearney Beck Griffiths Nesbitt

۞ Cherilyn ۞
Report
7 Oct 2012 07:43

Hi Carol

Happy to help if I can; not sure how much of the detail you already have. Poor Eliza had a bad run of it.

Eliza Jane NANKERVIS married Samuel DUNSTON in 1853 at Independent Congregational Church in Melbourne. They had a son named John DUNSTONE in 1854 in Collingwood (reg 3225). A Samuel DUNSTAN died in 1854 aged 21 in Melbourne (reg 5278).

Eliza DUNSTON married WmTEMBY in 1856 (reg 191). They had a son named Wm Hy in 1857 in Collingwood (reg 4210, TENBY); sadly, he died aged 2 in 1859 (reg 3002, TIMBY). Both show mother as Eliza NANKERVIS/NANCURVIS. Likely death for Wm as Wm TENBY in 1858 aged 23 (reg 3364).

Arthur SCOULLAR married Eliza Jane TINBY in 1860 (reg 246). They had a daugher named Annabella in 1861 (reg 266) and another, Amelia, in 1862 (reg 20131, as SCHOOLER), mother as Eliza Jane NANKERVIS. Both born in Collingwood.

No reference to John Donaldson SCOULLAR sorry, unless John DUNSTON was renamed later. Seems unlikely since he was already 6 when his mother remarried Arthur!

Ceedee
Report
6 Oct 2012 20:58

Hi There,
We are so hoping you can can help.

Eliza Jane Nankerves came to Australia round 1853 I think she was born in Cornwall England 1839. She had 3 marriages her last to Arthur Scoullar they married in Collingwood Victoria. She had two children by one of her first marriages one little boy not living. but we are not sure what happened to the surving one did arthur adopt him or not/? They went on to have a family. The came to N.Z. at some stage. We have a great grandfather John Donaldson Scoullar but don't know how he fits into the picture. he could be the little boy.

regards Carol

Researching:
Evans Scoullar Gibbs Westlake Spedderi/Spiteri Sullivan Dougherty/Doherty Carney/Kearney Beck Griffiths Nesbitt

David
Report
5 Oct 2012 11:45

Hi Cherilyn
Thanks for your help. Unfortunately I am not having much luck trying to trace his parents.
Kind regards
David

۞ Cherilyn ۞
Report
5 Oct 2012 09:19

Ah, here he is:

The South Australian Advertiser, Saturday 1 February 1879
HANSON.—On the 28th January, at Ballarat, of heart disease, Lewis Hanson, late of Woodville, aged 70 years.


The Victorian death reg (3560) gives his age as 66 but sadly no parents are mentioned.

۞ Cherilyn ۞
Report
5 Oct 2012 09:14

Hi David
Do you know when he died? From newspaper notices at NLA Trove it appears he was deceased between 1872 (when his daughter Sarah married) and 1882 (when his dson James married). His wife Eliza (nee SHANNON) died in 1865. They lived in Woodville.

HANSEN / HANSON Lewis, Eliza SHANNON married on 1841-08-03
HANSEN / HANSON Lewis/Louis (crew?) arrived 1837-10-16 on Solway from Hamburg [Source:7,26,41]
HANSEN / HANSON Lewis/Louis, Eliza SHANNON, parents of child born 1842-06-12 named Catherine Ann at Albert Town

Eliza's arival with her father and siblings:
SHANNON James (w?), Geo, Jane, Isabella, Eliza, James arrived 1838-10-11 on Surry (Surrey) from London [Source:2,7(also T NAUGHTON, L HANSON),20,23(2,1),26,41]

Marriage cert (1841) or, failing that, death cert would be your best bet.