Find Ancestors
Welcome to the Genes Reunited community boards!
The Genes Reunited community is made up of millions of people with similar interests. Discover your family history and make life long friends along the way.
You will find a close knit but welcoming group of keen genealogists all prepared to offer advice and help to new members.
And it's not all serious business. The boards are often a place to relax and be entertained by all kinds of subjects.
The Genes community will go out of their way to help you, so don't be shy about asking for help.
Quick Search
Single word search
New Military Records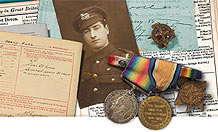 Was your ancestor a war hero?
View thousands of brand new military records, including Chelsea Pensioner records, Military Nurses, Prisoners of war and much more.
Icons
New posts
No new posts
Thread closed
Stickied, new posts
Stickied, no new posts
Lookup offer for Australia
Profile
Posted by
Options
Post Date

Unknown
Report
2 Jan 2013 08:13

I noticed that too, and its interesting you ask if there's a connection to the Harbins. My reason for asking if Henry Shaw Harbin was born in Lambeth, England is because I've got a Henry Augustus Smith born 1837 in Lambeth and his father, another Henry Augustus Smith born in Lambeth in 1810. Henry and his parents and siblings appear in the 1851 census but Henry junior disappears after that, just in time to come to SA maybe!!!! My Henry and Mary's daughter married a Harbin in SA.

Cherilyn
Report
2 Jan 2013 07:46

Any connection to the Harbins? As I notice Nellie's sister was a Mrs Newland. Could be a coincidence???

Unknown
Report
2 Jan 2013 07:32

His marriage certicate only had names, ages, place/date married, occupation, minister - no parents were named. The witnesses were John and Susan Skinner and I've being trying to trace them with some interesting results and theories but nothing I can prove yet. I don't have his death certificate I'm sorry, only the death entry from Digger. He was 72 and died at Sydenham, SA.
Two of his children had unusual names James NEWLAND Augustus Smith and DRUCILLA Smith and I'm wondering if perhaps they may have been family names on Henry's side.

Cherilyn
Report
2 Jan 2013 07:09

Hm all I can see on him is that he was late of Sydneham, was a gardener and the executor of his estate was Alfred Morton TIPPETT.

From Colonial SA Pioneers:
SMITH Henry Augustus, Mary AMBER married on 1854-06-07 at St George Church, Woodforde, aged 19, 17

Guessing his marriage cert gave up little. Do you have his death certificate?

Unknown
Report
2 Jan 2013 05:48

Hi Cherilyn
Thank you so much for all that, its really kind of you to spend the time. I forgot to say that I do have all the family for Samuel Harbin in SA, thanks.

May I ask for information on another family member please, if you're not being inundated with other queries. I'm trying to find anything on a Henry Augustus Smith who died in South Australia 16 September 1907 so I can trace him back to England, but there just isn't much to work on. He married Mary Amber in SA on 7 June 1854 and I do have all his children.
Cheers, Briony

Cherilyn
Report
2 Jan 2013 05:24

Yes that is Eleanor's (Nellie) father's birth in the UK. Cannot find his marriage to Johanna, spouse missing from FreeBMD.

I just found the death of Coral FORSTER nee HARBIN plus another in Vic, see above, I have added to long post. :-)

Unknown
Report
2 Jan 2013 05:18

Hi Cherilyn

Thank you so much for all that information, its such a big help to my research.
I'm curious about "Births Dec 1841 (>99%) Harbin Henry Shaw Lambeth 4 205" (near the bottom of the post). Does this mean Henry Shaw Harbin was born in Lambeth, England as I'm not familiar with a Lambeth in Australia.

Again, thank you very much.
Briony

Cherilyn
Report
2 Jan 2013 03:05

From NLA Trove

Australian Town and Country Journal, Saturday 30 September 1899
Weddings.
A wedding which was attended with considerable interest took place at St. John's Church, Darlinghurst, on September 20 between Mr. Mario Majeroni, of the Brough Comedy Company, and Miss Nellie Harbin, daughter of the late Mr. Henry Shaw Harbin. The bride, who was becomingly dressed in a pretty costume of grey voile and silk, and blue French hat, was given away by Mr. Philip Glenister. She was attended by two bridesmaids, the Misses R. and C. Glenister, dressed in white embroidered muslin over green silk, and floral hats. Mr. George Majeroni acted as best man to his brother, and Mr. Percy Brough as groomsman. The church was artistically decorated for the occasion by the girl friends of the bride, and the service was performed by the Rev. E. C. Lampard. After the ceremony, the wedding party were entertained at "Purfleet," Elizabeth Bay, by Mr. and the Misses Glenister, the guests including Mr. and Mrs. Robert Brough, Miss Emma Temple, Mr. and Mrs. Dartrey, and other members of the company, Mr. and Mrs. Fisher, Mrs. Newland (sister of the bride), Miss Rose Musgrove, Mr. Thomas Kingston, Mr. Cecil Ward, and others.

[Unfortunately no first name is given for Nellie's sister and I can't find a Harbin-Newland marriage. Her husband, Italian-born Mario Majeroni, was a very well-known actor and appeared in many movies and stage productions in Australia, NZ & the US, including several on Broadway. He died in New York in 1931 aged 60]


Births Dec 1841 (>99%)
--------------------------------------------------------------------------------
Harbin Henry Shaw Lambeth 4 205



The Argus, Wednesday 21 July 1858
MARRIAGE.
On the 16th inst., at St. Stephen's Church, Richmond, by the Rev. Mr. Brannan, Mr. John Harbin, of Liverpool, shipwright, to Miss Ann Parkes, second daughter of Mr. Thomas Parkes, of Smethwick, Staffordshire.


Cherilyn
Report
2 Jan 2013 02:54

My pleasure, Kiwibird :-)

Briony,

Here's WA:
1. Andrew Alfred HARBIN d. 1943, Blackwood district (reg 16) [bur. Balingup Cemetery; he is the father of Violet & Coral, who married in NSW. All originally from SA]
2. Enid Violet Christine HARBIN d. 1970 aged 66, d/o Hubert & Florence, Plantagenet district (reg 187). She is buried at Allambie Park, Albany with her husband Leslie (1905-1981). George Leslie HARBIN & Enid Violet Christine HARBIN were naturalised in Perth c1960 (see NAA Recordsearch). Their UK marriage:
Marriages Jun 1930 (>99%)
--------------------------------------------------------------------------------
Harbin George L Rowlands Bromsgrove 6c 544
Rowlands Enid V C Harbin Bromsgrove 6c 544



NSW marriages:
1. Eleanor M HARBIN m. Mario E MAJERONI 1899 (reg 5278, Sydney), ?d. 1906 as Nellie, d/o Hy & Johanna (reg 7641, Sydney) [see below for marriage notice]
2. Coral HARBIN m. Fredk FORSTER 1914 (reg 12278, Broken Hill)
3. Violet Lucy HARBIN m. Albt Jas WILLIAMS 1915 (reg 7894, Broken Hill
4. Hannah HARBIN m. Kenneth B MILES 1932 (reg 5616, Cessnock)
5. Chas N HARBIN m. Sybil H ROWE 1932 (reg 1596, Singleton)
6. Robt Chas HARBIN m. Pamela Margaret BELL 1956 (reg 23251, Manly)
7. Wm HARBIN m. Betty Grace DONALDSON 1956 (reg 13378, Muswellbrook)
NSW deaths:
1. Thos HARBIN d. 1877, s/o Jno & Elizabeth (reg 8214, Patricks Plain)
2. Johanna HARBIN d. 1917, d/o Jno & Ellen (reg 13425, Auburn) [probably Eleanor's mother]
3. Chas Harrison HARBIN d. 1978, s/o Wm & Catherine (reg 103959)

WWII enlistments:
HARBIN FRANCIS FREDERICK OWEN : Service Number - 5060 : Date of birth - Unknown : Place of birth - Unknown : Place of enlistment - Unknown : Next of Kin - LOTTIE [her address looks like Portsmouth, England]
HARBIN DENNIS : Service Number - A40654 : Date of birth - 31 Aug 1923 : Place of birth - PORTSMOUTH : Place of enlistment - Unknown : Next of Kin - JOHN [son of John & Florence nee LEE]


Vic marriages:
1. John HARBIN m. Ann PARKES 1858 (reg 2757) [see below for marriage notice]. He died in 1861 aged 33, born Liverpool (reg 10372) and Ann remarried in 1863 to Michael NOON (reg 4224).
2. Frank Andrew HARBIN (b. SA) m. Mary Ann PYKE 1885 (reg 6798). They lived in Ararat; let me know if you'd like thier children's details; there appears to be a line in SA all descended from Samuel HARBIN (arr SA 1840), not sure if you have this already.
Vic deaths:
Coral Amelia FORSTER nee HARBIN d. 1976 aged 78 (reg 17136, Brunswick)
Catherine SMITH nee HARBIN d. 1927 aged 41, d/o Jno HARBIN & Catherine DAGLISH (reg 389, Bendigo)

Arrivals in Australia:
HARBIN Albert Leroy born 30 October 1903; Fannie nee Jewel born 15 December 1907; Peggy Jo born 5 October 1944 - American [missionaries - see www.findagrave.com/cgi-bin/fg.cgi?page=gr&GRid=12252583
Margaret HARBIN - Arrived Sydney per STRATHNAVER on 13 Mar 1955

Kiwibird
Report
1 Jan 2013 09:29

Hi Cherilyn,

Thank you so very much for your time , your help has been most appreciated. What you have found is a real help and You found far more than I expected.

Kindest Regards Kiwibird

<3 <3 <3 <3 <3 <3 <3

Researching:
Wright, Exler, Blackall, Rogers, Short LONDON, OXFORDSHIRE. Riley,Barlow,Horsefall,Lee LANCASHIRE

Unknown
Report
1 Jan 2013 09:00

Hi Cherilyn

Thanks for the information on HARBIN in Qld, something new I didn't have. Would you also be able to check NSW, WA and Vic please for anything on HARBIN.
Thank you.
Briony

Cherilyn
Report
1 Jan 2013 08:22

This is interesting...
www.obits.com.au/notice/Muriel-Theresa-Godding

Yep, sure enough, there's a birth reg for a Muriel Teresa GRANT in Carlton in 1920 to Daphne Teresa GRANT, father not stated (reg 19880). :-D

austcemindex.com/inscription.php?id=8491347
austcemindex.com/inscription.php?id=8491346

Muriel's first marriage (he died in 1967):
10402/1946 BRUNKER EDWARD HORACE / PENGELLY MURIEL TERESA / BURWOOD

BRUNKER EDWARD HORACE : Service Number - N205121 : Date of birth - 07 Aug 1913 : Place of birth - BURWOOD NSW : Place of enlistment - BURWOOD NSW : Next of Kin - BRUNKER ROSE [his mum]

Her 2nd husband Leslie Robt Frank GODDING (known as Bob) was also married previously (in 1941 to Beryl Ruth McDONALD).

Cherilyn
Report
1 Jan 2013 08:01

Francis Herbert PENGELLY married Daphne Teresa Muriel GRANT in Victoria in 1924 (reg 4796).

Daphne's death notice is listed at Ryerson so you can request a lookup, should hopefully mention any children by name.

PENGELLY
Daphne Theresa
Death notice
11FEB1974 Death
[aged] 76
late of Camperdown
Sydney Morning Herald 13FEB1974

Cherilyn
Report
1 Jan 2013 07:58

Hi Kiwibird

WWI service record:
PENGELLY Francis Herbert : Service Number - V79754 : Place of Birth - North Melbourne VIC : Place of Enlistment - Melbourne VIC : Next of Kin - (Father) PENGELLY William Francis

Now this disputes your info that Wm died in 1908, as Francis' enlistment in 1918 aged 30yrs and 7 months gives his father as next of kin, address as 3 O'Shannassy St, North Melb. Francis was single, and a cooper by trade. A document in his record states his parents as alive and is signed by both Wm & Isabella. His birthdate is given as 20/1/1898 and birthplace the O'Shannassy address. He was discharged at his own request due to the war ending. There is a letter on his file dated 1933, requesting a copy of his discharge, where his address is shown as 72 English St, Camperdown NSW.

He then enlisted in WWII (fudging his age by 5 yrs so he could!):
PENGELLY FRANCIS HERBERT : Service Number - NX19886 : Date of birth - 20 Jan 1903 : Place of birth - MELBOURNE VIC : Place of enlistment - SYDNEY NSW : Next of Kin - PENGELLY DAPHNE

His death in 1955:
2718/1955 PENGELLY / FRANCIS HERBERT / WILLIAM / ISABELLA / NEWTOWN
His wife's death?
42249/1974 PENGELLY / DAPHNE THERESA MURIEL / WILLIAM / ANNIE


Kiwibird, looks like 'your' Wm Francis PENGELLY died in 1937 in North Melbourne, aged 73 (reg 2607), son of Wm Francis (who may be the one who died in 1908!) and Mary Jane nee SEAL. Found his birth in 1863 in Hamilton, Vic to those parents (reg 20741). He was one of 8 chn born to them 1856-1875. Wm F snr and Mary Jane arrived in Victoria in Oct 1854 aboard 'Panama' aged 23 & 22 respectively. By the by his wife is shown as Isabella on all records (not Isabell).


Possible marriage for daughter Isabell in NSW?
5523/1928 HUGHES CLYDE / PENGELLY ISABELL / SYDNEY

Cherilyn
Report
1 Jan 2013 07:31

Hi Briony

Only immigration to Qld that is close:
HARBON Fred 21 Hereford 25 Aug 1883 176 18480 Z1960 M1699

Birth of Peter HARBIN to James & Margaret (nee ROBERTS) in 1864 (reg C946), then Andrew HARBIN to James & Catharine (nee OLIVER) in 1895 (reg C5571) but latter died the same year (C1701).

Are you sure they were in Qld?

Unknown
Report
1 Jan 2013 03:41

Hi Cherilyn

I'm researching the HARBIN family in Australia. When you have time would you please be able to see what BMD you can find for that name in Queensland please.
Thankyou for you help.
Cheers
Briony

Kiwibird
Report
1 Jan 2013 00:26

Hi Cherilyn , Happy New Year

Please Could you possibly find any marriages, children or deaths for this Brother and Sister.( I spent 2 hours on Ancestry at my local library yesterday without any joy.)

Isabell Pengally b, 1894 Hotham, Victoria and Francis Herbert Pengelly b,1898 Hotham, Victoria

Their Parents were William Francis [Francis William] Pengelly b,? d,1908 and Isabell Wright b, 1863 Ballaret East, Victoria d,1951

Could not find any other siblings.

Any help most appreciated.

Thank you, Kiwibird <3

Researching:
Wright, Exler, Blackall, Rogers, Short LONDON, OXFORDSHIRE. Riley,Barlow,Horsefall,Lee LANCASHIRE

Marian
Report
31 Dec 2012 14:45

Thank you for looking Cherilyn, I'll investigate further. :-) Happy New Year to you too.

Cherilyn
Report
31 Dec 2012 08:50

Hi Marian

Sorry I can't see them at all. Maybe they were adopted out, given their young age when mum Sarah died? If Jas could not cope (or certain ppl thought he couldn't/wasn't) then the children may have been taken into care. So names may have been changed, making it near impossible.

Nor can I find Jas Wm's death. Do you know where Eliza was buried? Worth checking Cheltenham Cemetery to see if she is there and if Jas is with her. Might give us more to go on. :-)

Happy New Year!

Marian
Report
30 Dec 2012 15:56

Hi Cherilyn
Could you take a look at the Victoria records for me. James William Hill married Sarah Horsley in 1874. They had the following children:
Kizier 1874, Charles 1876, Jane 1878 - 1879, James 1879 – 1900, Henry 1881, Albert 1884 - 1884, Olive 1884 – 1884 and Sarah 1885. Sarah snr died 1885 and James remarried to Eliza Walsh nee Boyd. I have their marriage certificate. I cannot find any records for Kizier, Charles, Henry or Sarah and am wondering what could have happened to them. I know when Eliza died - 1929 - but not James. I did have a recent thread about James but not the above children. Thank you.