We are ready to help!
There are many ways of contacting Genes Reunited, please select one from the list below.
Need help using the site?
I have a query not answered in the FAQs and would like to contact support.
Contact our Support Team for a personal response to your question here.
I would like to remove myself from the site.
You can remove yourself from our systems, including any personal data you have logged by clicking here.
I want to report abusive or unsuitable content.
If you wish to report any abuse of the system please contact our abuse manager and we will quickly remove the offensive material. (Please do not use this email address for any other queries. They will not be answered.)
I would like to advertise with Genes Reunited.
I want to discuss promotions with Genes Reunited.
I need to contact the Genes Reunited Press/PR Department.
Link to Us
If you enjoy using Genes Reunited we'd love you to tell everybody about it! If you would like to attach our banner to your site then please use one of the following images: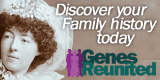 Alternatively, copy the following html code and paste into your page
Affiliate Programme
If you have a website you could earn money through our affiliate programme. This programme is run by Commission Junction and you can find out more here