General Chat
Welcome to the Genes Reunited community boards!
The Genes Reunited community is made up of millions of people with similar interests. Discover your family history and make life long friends along the way.
You will find a close knit but welcoming group of keen genealogists all prepared to offer advice and help to new members.
And it's not all serious business. The boards are often a place to relax and be entertained by all kinds of subjects.
The Genes community will go out of their way to help you, so don't be shy about asking for help.
Quick Search
Single word search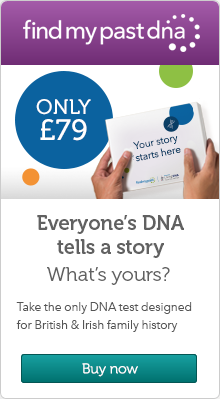 Icons
New posts
No new posts
Thread closed
Stickied, new posts
Stickied, no new posts
DNA testing, fun game, useful tool,
Profile
Posted by
Options
Post Date

Rambling
Report
13 Jun 2019 14:29

or dangerous route to take?

Interesting article ( for those who are interested :-) )

https://www.theguardian.com/lifeandstyle/2019/jun/12/what-does-it-mean-to-be-genetically-jewish

Not just about being Jewish. Historian Shlomo Sand makes the comment

"For Sand, there is a particularly dark irony that this type of genetic discrimination is being weaponized by Jews against other Jews.

"I am the descendant of Holocaust survivors, people who suffered because of biological and essentialist attitudes to human groups," he told me. "When I hear stories of people using DNA to prove that you are a Jew, or French, or Greek, or Finnish, I feel like the Nazis lost the war, but they won the victory of an ideology of essentialist identity through the blood."






Researching:
Statler and Waldorf.

Annx
Report
13 Jun 2019 22:34

The testing and results aren't a problem, but cultural beliefs and prejudice often cause one.

You could equally say that the same kind of findings can come from exploring your family history with what you may discover. There is nothing to stop anyone with a reason, similarly tracing your ancestry.


Researching:
Staffordshire, Warwickshire

maggiewinchester
Report
13 Jun 2019 22:46

That's the problem with religions - and fascists.



Researching:
Me and my sister in the 'Bessacar', about 1962.

maggiewinchester
Report
13 Jun 2019 23:12

Have to admit, DNA testing solved a query I had about our family.
My nephew got his DNA tested first
, and at the same time bought a kit for his mum ( my sister).

Now in our family, dad had very black hair and piercing blue eyes.
Mum had dark hair and brown eyes.
Eldest boy had very blond hair and blue eyes.
Next child (another boy) was like his dad.
Daughter had brown hair with fair streaks in the summer, and blue eyes.
Youngest (me) had very black hair, brown eyes - and was 3 shades darker than everyone else in her family!

DNA showed sister and I had 40 something % Celtic, 40 something % Scandinavian (sister a few % more Scandinavian than me).
We also had Iberian. Sister 6.3%, me 9.6%.
Which explains my being darker, and the Scandinavian explains our blond brother!
Nephew had similar - his father was Irish - but he also had about 3% Roman!
So his Irish father wasn't 100% Celtic! :-D

I've traced our Celtic heritage (dad's mum was Cornish) back to the 1100's, some to Brittany.
The Suffolk side must be the Scandinavian.
So far, I've traced them back to the 17th Century.
Neither side has any 'immigrants' so far (Brittany was British until 1532),

It's a great argument against racists - especially those with foreign surnames, like Frensen and Farage! I've got an English name, but no 'English' DNA - but you....

Most of us genealogists know that the UK is a mixture, unfortunately, racists seem to think 'British' is one race.

:-D :-D

Researching:
Me and my sister in the 'Bessacar', about 1962.

Shirley~I,m getting the hang of it
Report
14 Jun 2019 05:51

Well mine showed the German side of the family quite remarkably
My paternal grandfather was German born 1871 but it was still there

Plus too it came uo with a potential umpteen times cousin and on making contact discovered he was descended from the first marriage of a grt grt grandmother who as a widow married my grt grt grt grandfather in 1850 and went on to have more children one of whom i am descended from on my mums side

But to me it's just another bit of finding out who you are.

Researching:
Surname Fahse. Germany. Essex .South East London My avatar is one of our wedding photos of 1957

JoyLouise
Report
14 Jun 2019 11:49

I had my DNA done through 'the other channel', so to speak, and gained a shipload of cousins, many I already knew about and had met. May I add that all of those whom I never knew about but I have now met have been super friendly and are a very sociable, happy bunch. Not a grouch among them, thank goodness.

Mine was 96% British (of which 74% English [north, south and midlands] and Wales; 22% Ireland and Scotland); 2% Norway and 2% Sweden.

The first test was slightly vague about Europe but a few months later after they re-tested (as they do when the latest methods become available) they were able to pin down Norway and Sweden.

MaggieW, of my two children, one has my colouring and the other the colouring of her cousins on her Dad's side who all came with blonde hair and blue eyes.

I shall always be grateful to AnnCardiff who helped find records of my ancestry back almost 1,000 years but the one line I have not been able to trace is that of a direct ancestor born in the late-1700s in Gloucestershire.

If anyone knows of records online for this county, could you please let me know because I don't live near enough to visit the Records Office.




Researching:
St Lawrence & All Saints, Steeple

ElizabethK
Report
14 Jun 2019 12:09

oyLouise

Quite a lot of the Gloucestershire Records are online at Ancestry.

JoyLouise
Report
14 Jun 2019 12:40

Thanks, Elizabeth, will take a look as OH is a member.

Researching:
St Lawrence & All Saints, Steeple

Kense
Report
22 Jun 2019 10:25

Ancestry have very recently recalculated their ethnicity results so it is worth revisiting them to see what has changed. Whereas mine used to say one site of Devon and Cornwall, it now says two sites: Kerrier, and East Cornwall.

Madge
Report
22 Jun 2019 11:01

Excellent thread Rose. Really interesting to read others results.
I post my own thread acouple of months ago about getting my own DNA done and I was slighty put off.

Researching:
Nothing on this site records are complete tosh!

Rambling
Report
23 Jun 2019 14:23

:-) Madge.

I was reading on FB Ancestry page that the altered/ update ethnicity results are confusing to some people that have a paper trail of Welsh ancestors and that their previous DNA report showed that, and now doesn't?

Edited to make more sense , I hope :-)



Researching:
Statler and Waldorf.

Madge
Report
23 Jun 2019 14:40

I really am tempted Rose. To get Scandinavian and Swedish in my results would come as no suprise as I am blonde very fair skinned and blue eyes, same as Maggie I have 2 sister who are dark haired brown eyes just like my dad I would interested to see results from his genes, I may talk my sister in to having hers done as well.

Researching:
Nothing on this site records are complete tosh!

Rambling
Report
23 Jun 2019 14:54

Madge it is tempting, but I would be disappointed if it only showed specifically English and Irish, which is what I know already.

I'm very sure that there should be Italian or French on the Irish side and I'd like to know for certain but it is too far back to show up in tests I think?





Researching:
Statler and Waldorf.

Madge
Report
23 Jun 2019 14:59

You know Rose daft as it sounds but I am thinking maybe Native American or possible South Asia could pop up in ours from the Irish side

Researching:
Nothing on this site records are complete tosh!

Rambling
Report
23 Jun 2019 15:13

Not at all daft Madge, I can't remember now where I saw it but someone posted that they had a small percentage of Native American show in their report but couldn't account for it.

My gt grandmother on dad's side came from Canada, and her gt gt (gt?) grandfather was from Yorkshire who went to the USA,and then Canada after the revolution. I know the male line line but it is always possibly one of the wives was native Canadian or American, or French. I hadn't thought about that really :-)

Researching:
Statler and Waldorf.

maggiewinchester
Report
24 Jun 2019 11:32

Madge, to be honest, when I got my DNA done, I was half expecting (but prepared) to find out I wasn't my sister's sister!
I am :-D

Yesterday, I think we may have persuaded at least one of our brothers to get his DNA done, and our sister in law (blonde, blue eyed) - half of whose family hails (like ours) from Suffolk!

I'm also intrigued by a 'similar ancestry' theory of attraction.
One of my best friends at school had the unusual surname of Dowrick.
I recently found out it was a Cornish name - and one of my ancestors married a Dowrick!

I met my ex in Hampshire - he'd moved around a bit, but his ancestors spent about 150 years living along one road, between Whitchurch and Overton!

However, one of his grandmothers came from the New Forest, as did one of my G grandmothers.
It transpires, they worked as domestics at the same Farmhouse in Sway, albeit 20 years apart. :-S
They also both came from ancient New Forest 'traveller' families, so it's not too easy tracing them, though both surnames are still common to the New Forest.

......but a bit of a coincidence!

Researching:
Me and my sister in the 'Bessacar', about 1962.

Rambling
Report
24 Jun 2019 12:41

Maggie, how far is it from Whitchurch to Overton? I have a gt gt born Whitchurch but other families of the same name in Overton who may or may not be connected.

Researching:
Statler and Waldorf.

maggiewinchester
Report
24 Jun 2019 13:48

Within walking distance - about 4 miles, Rose - I know I've done it :-S
(rural pub crawls aren't all they're made up to be)
Ex's ancestors worked mainly in the paper mill in Whitchurch, (ex's grandfather 'proved' the old cloth £5 notes), but some worked in the silk mill.
At one point every other cottage in Freefolk (about mid-way between the two) was lived in by his family.
There's every chance your strands are connected :-D

Researching:
Me and my sister in the 'Bessacar', about 1962.

Rambling
Report
24 Jun 2019 14:02

Thanks Maggie, that gives me a much better idea for seeing whether the families might be connected :-)

Researching:
Statler and Waldorf.