General Chat
Welcome to the Genes Reunited community boards!
The Genes Reunited community is made up of millions of people with similar interests. Discover your family history and make life long friends along the way.
You will find a close knit but welcoming group of keen genealogists all prepared to offer advice and help to new members.
And it's not all serious business. The boards are often a place to relax and be entertained by all kinds of subjects.
The Genes community will go out of their way to help you, so don't be shy about asking for help.
Quick Search
Single word search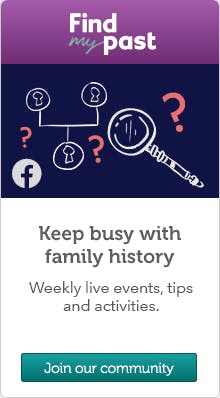 Icons
New posts
No new posts
Thread closed
Stickied, new posts
Stickied, no new posts
Omeprazole
Profile
Posted by
Options
Post Date

Bobtanian
Report
7 Nov 2019 11:37

any one take these capsules? do they work? any adverse results?

Researching:
Now that food has replaced sex in my life, I can't even get into my own pants. My Dad's Squadron Patch...IRAE EMMISSARII my Royal Signals poppy

Von
Report
7 Nov 2019 11:41

They worked for me but I believe the current thinking is that they are bad for your heart so not to be recommended long term.
Ask your Doc or pharmacy.
Good luck

Sharron
Report
7 Nov 2019 11:42

Fred was on them from the time he had the stroke.

Before that I would say he was addicted to Rennies, seriously.

I could never remember him not taking Rennies several times a day, he had a white tongue all the time.

By the time he had the stroke he was on two packets a week, at least. He had just bought a new packet and I finished it seven years later.

Once he was on Omeprazol he had no ore need for any other antacids.

His cousin, who had had a very similar stroke to him, was much better looked after than poor Fred. His wife thickened everything he ever drank and he stayed on a peg feed. She would take the capsule apart every morning and tip the contents down the peg. Poor old Fred had to swallow his!

Shirley~I,m getting the hang of it
Report
7 Nov 2019 11:45

Yes been on them long term for a hiatus hernia

They work for me in keeping the problems down and I can eat almost everything
Some foods I can't and can't drink some wines or sherry as they don't agree with me

Have to be careful not to overload the stomach though otherwise it comes back up!

I have no side effects from them .

Have had the camera down and it's a big hiatus hernia that isn't suitable for surgery

Researching:
Surname Fahse. Germany. Essex .South East London My avatar is one of our wedding photos of 1957

Andysmum
Report
7 Nov 2019 12:02

Yes, I was on them for about a year after I was diagnosed with non-hodgkins lymphoma. I was also on aspirin and the omeprazole were to balance the effects of the aspirin.

Like Shirley, I also had cameras down, but radiotherapy had cleared up the lymphoma and after the oncologist had signed me off, the GP took me off the omeprazole. I had no side-effects, but the instruction leaflet in the box says they should not be taken long-term without consulting a doctor.

Bobtanian
Report
7 Nov 2019 12:03

Shirley,

Likewise....Barretts?


Sharron, yeah for combating reflux, Excellent.......

I used to be known for my Gavisgon bottle.....

Researching:
Now that food has replaced sex in my life, I can't even get into my own pants. My Dad's Squadron Patch...IRAE EMMISSARII my Royal Signals poppy

'Emma'
Report
7 Nov 2019 12:26

Been on them for years with no side effects,
prescribed along with other meds for RA.

supercrutch
Report
7 Nov 2019 13:08

I have them on repeat script 2 x 20mg daily.

Colorectal surgeon suggested I stay on them as a) I take a lot of meds which could cause a bleed and b) I make too much stomach acid.

Sue x

Researching:
Jones!!!!!!!!!!!!!!

Phyll
Report
7 Nov 2019 14:07

Sane as 'EmmA'

Researching:
Newman, Pavey, Sinden from Sussex. Latham from Bucks & Herts

Island
Report
7 Nov 2019 14:39

Ditto Emma and Phyll :-(
Long term for reflux caused by long term RA med

SuffolkVera
Report
7 Nov 2019 15:48

Joan, your OH could have been given the Omeprazole to counteract possible side effects of something else he was taking. My OH sometimes has to take Ibuprofen and he is prescribed Omeprazole to take just while he is taking Ibuprofen which can affect the stomach and kidneys.

maggiewinchester
Report
7 Nov 2019 18:13

I take Omeprazole for reflux.
The label says one a day - but I only take them occasionally.
The reflux is under control! :-D

Researching:
Me in 2014, apparently.

SylviaInCanada
Report
7 Nov 2019 20:52

I've been on omeprazole since 2004 when I was found to have an oesophageal ulcer, caused by GERD (gastric reflux). The ulcer was healed by taking omeprazole to control the reflux, but left me with Barrett's Syndrome.

The doctors had me stop taking omeprazole every now and again, but I get the reflux back .............. and that can cause the Barrett's to move on to the next stage, which is pre-cancerous.

So I'm on 40 mg a day before breakfast for the rest of my life.

But I'm on little pink pills, not a capsule.

The only adverse effect that I've had, and it may be a result of the gastric reflux rather than the medication is that I can no longer drink. 2 small sips of champagne or sparkling wine at Christmas or New Year is all that I can now drink. Then it begins to taste very acidey, and I end up being VERY uncomfortable.


However, it doesn't work for 24 hours for me, so I have to take another "controller" later in the day.

I was taking Ranitidine (Zantak), and it was successful, with no problems .............. but it was taken off the market last month here and in the US because of a possible contaminant. So now everyone is trying different medications ............ the doctor currently has me taking Famotidine, ½ 20 mg tablet at lunch and ½ at dinner. It's similar to Ranitidine but often not as effective. Famotidine is over-the-counter Pepcid.

Researching:
VE Day celebration, street party for the children. I'm sitting 5th from left, far side of the table with my grandmother standing behind me. ............................................................ To help us and to get better results, please post as much detail as you can, especially name, date(s) and place. Also say what you already know.

Bobtanian
Report
8 Nov 2019 12:48

Sylvia,....most interesting!!

Researching:
Now that food has replaced sex in my life, I can't even get into my own pants. My Dad's Squadron Patch...IRAE EMMISSARII my Royal Signals poppy

Elizabeth2469049
Report
8 Nov 2019 23:31

Thanks for all this - I had given them up


But had fallen into the same trap as Fred living on a steady diet of the supermarket version of Rennie's and was concerned unless I had at least two packets spare in the house. So this morning I had an omeprazole instead and felt fine all day. I should say a few months ago that bI had some thorough hospital checkups prior to an unconnected operation and was given a diagnosid of magnesium deficiency and on reading the very small print in the omeprazole package it did say something about it might have such an effect!

Researching:
Dominy & Croom in Dorset, Rutherford & McElhatton in Northumberland. Dendy and Thorp

Bobtanian
Report
8 Nov 2019 23:35

I did a thorough reading of the Advice sheet, today.......and if possible, I am coming off them......"back to peptac or gavisgon...."




Researching:
Now that food has replaced sex in my life, I can't even get into my own pants. My Dad's Squadron Patch...IRAE EMMISSARII my Royal Signals poppy

maggiewinchester
Report
8 Nov 2019 23:51

I was on 2 a day to begin with.
Reflux was diagnosed after trying to eat a shop-bought sausage roll - which was impossible because of the pain. I then found I couldn't eat mints either!
I took 2 a day for a while, then tried 1 a day.
Now I just don't eat pastries (or only take a pill if I think I will)!
I also rarely eat bread.

I've also got diverticular disease - but have worked out what foods may cause problems - beetroot (which I love) - and basically any purple foods - including purple carrots!

I've just slightly changed my diet, and know what things affect me - but I still occasionally eat beetroot at weekends, and suffer the consequences!
I just call it a 'purging of the system'! :-D :-D :-D

Researching:
Me in 2014, apparently.