Genes Reunited Blog
Welcome to the new Genes Reunited blog!
We regularly add blogs covering a variety of topics. You can add your own comments at the bottom.
The Genes Reunited Team will be writing blogs and keeping you up to date with changes happening on the site.
In the future we hope to have guest bloggers that will be able to give you tips and advice as to how to trace your family history.
The blogs will have various privacy settings, so that you can choose who you share your blog with.
New Military Records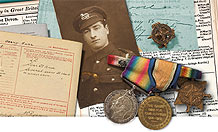 Was your ancestor a war hero?
View thousands of brand new military records, including Chelsea Pensioner records, Military Nurses, Prisoners of war and much more.
Published on 10 Jun 2015 12:02 : 5 comments : 9286 views
Have you been tuning in to Family Finders, the new series from the BBC that follows the work of professional genealogists – 'family finders' – as they track down lost relatives to bring families back together.
In yesterday's episode, one person searching for their relatives used Genes Reunited to aid them on their journey.
You can watch the episode on BBC's iPlayer here, and if you skip to around 16:39, you'll hear how "Genes Reunited played a key part. Many evenings were spent searching for births, marriages, deaths and a lot of information was gathered."