Quizzes and Games
Welcome to the Genes Reunited community boards!
The Genes Reunited community is made up of millions of people with similar interests. Discover your family history and make life long friends along the way.
You will find a close knit but welcoming group of keen genealogists all prepared to offer advice and help to new members.
And it's not all serious business. The boards are often a place to relax and be entertained by all kinds of subjects.
The Genes community will go out of their way to help you, so don't be shy about asking for help.
Quick Search
Single word search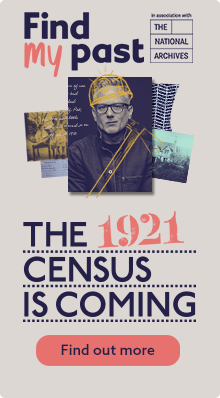 Icons
New posts
No new posts
Thread closed
Stickied, new posts
Stickied, no new posts
The song story
Profile
Posted by
Options
Post Date

Mike *
Report
5 Mar 2014 00:44

It was RUBY who took her love to town
that's : RUBY, RUBY RUBY RUBY !

JemimaFawr
Report
5 Mar 2014 01:42

JOLENE WENT WITH HER :-D :-D :-D

...As did LUCILLE... WHEN THERE WERE 4 HUNGRY CHILDREN AND A CROP IN THE FIELD!


(I just got up out of bed, went downstairs to get my laptop and change it to Ruby before anyone saw my mistake MIKE :-P :-D :-D)

JemimaFawr
Report
5 Mar 2014 01:44

and the three of them decided they would be PAINTING THE TOWN RED taking along Valerie who was now totally fed up of her Boy Lollipop!

UzziAndHerDogs
Report
5 Mar 2014 19:43

and the girls sang THE WINNER TAKES IT ALL, WE ARE THE CHAMPIONS as skipped along THE YELLOW BRICK ROAD missing the turn to THE ROAD TO HELL

Researching:
Turner, Staniforth in Beighton and Ridgeway Sproat in Sheffield and Cumbria

UzziAndHerDogs
Report
6 Mar 2014 07:44

then one said MAMMA MIA, CHIQUITITA; I HAVE A DREAM about myself and FERNANDO that involves MONEY MONEY MONEY and I will be THE DANCING QUEEN

Researching:
Turner, Staniforth in Beighton and Ridgeway Sproat in Sheffield and Cumbria

JemimaFawr
Report
6 Mar 2014 09:32

But their men caught up with the GIRLS (who) JUST WANNA HAVE FUN at THE COPACABANA!

Boy Lollipop confronted Valerie abusively saying- "Why, Why, Why....DELILAH!.:-0 :-0
To which VALERIE replied "MY BOY LOLLIPOP!..my heart no longer goes Giddy-up
:-\ :-\...and I want a D-I-V-O-R-C-E" :-| :-| :-D

Ruby's husband was also NOT IMPRESSED..and said GOODBYE RUBY TUESDAY! :-| :-| Ruby replied...WHO'S SORRY NOW? :-P NO REGRET-I WILL SURVIVE! :-P :-P

Looking on JOLENE said to herself "UNFORGETTABLE!" because she had her eye on COTTON EYED JOE, whom LUCILLE had left with a crop in the field! ;-) ;-)

UzziAndHerDogs
Report
6 Mar 2014 16:00

JESAMINE meanwhile said DON¨T CRY FOR ME ARGENTINA because MA HE¨S MAKING EYES AT ME and I am a YOUNG GIRL but HAVE I THE RIGHT to say DANCE ME TO THE END OF LOVE

Researching:
Turner, Staniforth in Beighton and Ridgeway Sproat in Sheffield and Cumbria

Mike *
Report
9 Mar 2014 23:05

so they DANCED THE NIGHT AWAY until THE WEE SMALL HOURS OF THE MORNING

Battenburg
Report
10 Mar 2014 05:22

singing TWISTand SHOUT to ELEANOR RIGBY who CRIED LIKE A BABY because she was A PUPPET ON A STRING

UzziAndHerDogs
Report
10 Mar 2014 18:03

Alas they said BYE BYE MISS AMERICAN PIE whilst ALEXANDER THE GREAT just want to say TELL LAURA i LOVE HER.

Researching:
Turner, Staniforth in Beighton and Ridgeway Sproat in Sheffield and Cumbria

Battenburg
Report
10 Mar 2014 18:49

so she has no TEARS FOR SOUVENIRS just A MEMORY to KEEP HER WARM in THE MIDNIGHT HOUR

JemimaFawr
Report
11 Mar 2014 14:06

Meanwhile on The MIDNIGHT TRAIN TO GEORGIA, running away together, running away forever were ANGELO and SALLY!

Angelo said to Sally " I have GEORGIA ON MY MIND-RUN BABY RUN" ;-)

Sally was fed up of her alley, so she replied " I'VE HAD ENOUGH- WORKING NINE TO FIVE- it's no way to make a living:-\ . I WANT TO BREAK FREE"! :-|

So Sally agreed saying "I'M EVERY WOMAN- SIGNED SEALED DELIVERED I'M YOURS" <3

But LIFE IS HARD for Angelo and Sally in Georgia. Angelo chides Sally- "I'VE BEEN WORKING ON THE RAILROAD- and you've been SPENDING MONEY!" :-| :-| :-|

Sally angrily retorts " MONEY- THAT'S WHAT I WANT!"

To which Angelo remonstrated " You lift SIXTEEN TONS and what do you get? Another day older and deeper in debt"

But Sally was a MATERIAL GIRL, and she said "LOVE IS NOT ENOUGH" :-|and carried on SPENDING MONEY :-D

There was a KNOCK ON WOOD- Angelo answered the door. It was THE BLACK-EYED BOYS who'd motorcycled into town! "PAY UP" they demanded.

They beat Angelo BLACK AND BLUE!

Sally decided to RUN, and fled to NEW YORK, NEW YORK!

UzziAndHerDogs
Report
11 Mar 2014 21:10

there she met ALFIE who said we will go to CALIFORNIA where we will go SURFIN IN THE USA so she joined him in the CARS choosing CHITTY CHITTY BANG BANG hoping he wasn't about say LET'S GO TO FLY A KITE and land her in MUD MUD GLORIOUS MUD.

Researching:
Turner, Staniforth in Beighton and Ridgeway Sproat in Sheffield and Cumbria

Battenburg
Report
11 Mar 2014 23:52

before taking off in a YELLOW SUBMARINE because she HAD ENOUGH

and wanted to go HALF THE WORLD AWAY to the FAIRGROUND because she was THE SALT OF THE EARTH and CANT EVEN TELL when to TAKE IT EASY

because LOVE HURTS



UzziAndHerDogs
Report
15 Mar 2014 20:50

the group said wow is that going to be THE YEAR 2525 it was worse than PICTURES OF MATCHSTICK MEN, I would rather be IN THE ARMY NOW . ROCKING AL OVER THE WORLD doing WHATEVER YOU WANT meanwhile we are happy to be THE WANDERER

Researching:
Turner, Staniforth in Beighton and Ridgeway Sproat in Sheffield and Cumbria

JemimaFawr
Report
16 Mar 2014 13:53

But Sally found Alfie LYING IN THE ARMS OF MARY :-0 :-0

She said..."HIT THE ROAD JACK (he was from Swansea!:-D) and don't you come back no more, no more, no more, NO MORE:-| :-| :-| (leaving out the expletives of course :-D)

Upset, Sally phoned Sylvia, but SYLVIA'S MOTHER SAID Sylvia's busy...too busy to come to the phone" Sally pleaded "HELP! I need somebody help! It's at TIMES LIKE THESE you FIND OUT WHO YOUR FRIENDS ARE!" :-| :-|

Sally confided in her NEIGHBOURS...Everybody needs good neighbours, with a little understanding, they can guide you on your way!

She said"BILLY YOU'RE MY FRIEND let me tell you what I saw!.."

Billy said "COME ON OVER, COME ON IN..Pull up a seat, take the weight off your feet!.....You need a SUMMER HOLIDAY!"

So Sally pondered..."TRAINS AND BOATS AND PLANES?" and decided she was LEAVING ON A JET PLANE. But It took TWENTY FOUR HOURS FROM TULSA to SAN FRANCISCO - the AIRPORT was on strike !

There Sally met a RHINESTONE COWBOY!........

Battenburg
Report
17 Mar 2014 10:24

who was playing I WANNA BE YOUR MAN or I will climb a BRIDGE OVER TROUBLED WATER .

Sally said LETS JUMP THE BROOMSTICK instead
and go on our honeymoon to DANCE THE NIGHT AWAY and make

MAD PASSIONATE LOVE. ALL NIGHT LONG

Oh you are awful but I like you so
COME OUTSIDE and DO IT ALL OVER AGAIN
and DANCE TILL THE MORNING LIGHT because I CANT STAND THE RAIN
and its RAINING IN MY HEART

JemimaFawr
Report
17 Mar 2014 17:40

Sally said THANK YOU FOR LOVING ME :-) :-) <3 <3 <3 to her Rhinestone Cowboy
because A GOOD HEART these days, is hard to find-true love, the lasting kind!..And she should know! ;-) ;-)

HOW LONG WILL I LOVE YOU? she mused! ...until THE GOING GETS TOUGH by Sally's record!! ;-)

Meanwhile ALFIE was beginning to feel REGRET about MARY :-( as MARY IN THE MORNING was not a PRETTY WOMAN! She was like Alfie's ex- MAGGIE MAY! "The morning sun when it's in your face really shows your age!" he told Mary! :-0 :-0

Mary was NOT IMPRESSED and vowed REVENGE! :-| :-| :-|....and went looking for the KILLER QUEEN- dynamite with a laser beam, guaranteed to blow...his head off! :-D :-D

So Alfie was a FOX ON THE RUN. He ran until he ended up IN THE GHETTO... And then one night in desperation the young man breaks away-He buys a gun, steals a car,tries to run, but he don't get far.....and BOOM BANG-A-BANG! :-( :-( :-(

As Alfie lies dying he cries "BANG BANG he SHOT ME DOWN, BANG BANG..I hit the ground!":-( :-(

As he took his last breath Alfie was heard to say "TELL LAURA I LOVE HER!"<3 <3
So it was not SALLY nor MARY but LAURA who was Alfie's BELOVED! <3

Meanwhile, back in San Francisco The Rhinestone Cowboy had been frequenting the "OK CORRAL" Public House where SATURDAY NIGHT'S ALL RIGHT FOR FIGHTING! and in the gunfight :-0 :-0 :-0 :-0......
..........."I SHOT THE SHERRIFF- But I didn't shoot the Deputy!" Rhinestone Cowboy exclaimed as they took him away! :-0 :-0

Battenburg
Report
18 Mar 2014 02:07

Meanwhile Mary asked herself ARE YOU LONESOME TONIGHT then go get DRUNK IN LOVE so she went SAILING and met her new DREAM LOVER

singing THE SKYE BOAT SONG and VINCENT she loved it so much she told him I'm

SAVING ALL MY LOVE FOR YOU not SOME OTHER GUY.

So they sailed away and WALKING BACK TO HAPPINESS she said

IF TOMORROW NEVER COMES ( love this song by Garth Brooks)

I WILL ALWAYS LOVE YOU

I have met my WATERLOO

JemimaFawr
Report
19 Mar 2014 14:40

"LOVE IS THE DRUG -VINCENT", Mary said " THE ONLY THING I NEED!" <3 <3 <3

However, Vincent's Starry Starry Night was rather iffy!
THERE IS A HOUSE IN NEW ORLEANS THEY CALL THE RISING SUN- it's been the ruin of many a poor boy....And Vincent was one! :-0 :-0
Here he became involved with THE NAUGHTY LADY OF SHADY LANE... and she certainly was a SHADY LADY. :-0 :-0 :-0

Mary had an UNSUSPECTING HEART! :-) :-)
Little did she know, that when love says goodbye it's a FOUR LETTER WORD! because Vincent loved CIGARETTES, WHISKEY & WILD, WILD WOMEN:-0 :-0 :-0..and as everyone knows ....
......Cigarettes, whiskey and wild, wild women- they'll drive you crazy, they'll drive you insane! :-| :-| :-|

But the Shady Lady who's name was JEZEBEL had an evil accomplice called MACK THE KNIFE....BLACKMAIL was their business! "STAND AND DELIVER" they ordered Vincent "or we'll SEND A MESSAGE TO MARY"! :-| :-| :-|

A shocked Vincent replied "I WHO HAVE NOTHING?" as he had spent all his money on cigarettes , whiskey and wild, wild women as we all know :-D :-D

The evil duo sent a MESSAGE IN A BOTTLE with...well HIS NAME WAS ERNIE, AND HE DROVE THE FASTEST MILK CART IN THE WEST! :-D :-D

Mary sobbed "WHAT BECOMES OF THE BROKEN HEARTED, who had love that's now departed? :-( :-( :-( :-(

Vincent pleaded "STAND BY YOUR MAN..give him two arms to cling too, and something warm to come to when nights are cold and lonely!" :-( :-( :-(

Mary was BEWITCHED, BOTHERED AND BEWILDERED :-S :-S :-S :-( :-(

..what should she do?......