Suggestions
Welcome to the Genes Reunited community boards!
The Genes Reunited community is made up of millions of people with similar interests. Discover your family history and make life long friends along the way.
You will find a close knit but welcoming group of keen genealogists all prepared to offer advice and help to new members.
And it's not all serious business. The boards are often a place to relax and be entertained by all kinds of subjects.
The Genes community will go out of their way to help you, so don't be shy about asking for help.
Quick Search
Single word search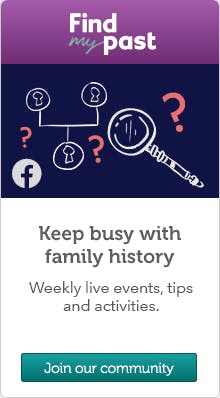 Icons
New posts
No new posts
Thread closed
Stickied, new posts
Stickied, no new posts
All the way back
Profile
Posted by
Options
Post Date

RolloTheRed
Report
19 Sep 2012 15:21

Which theme did you like best ?

http://wayback.archive.org/web/20050701000000*/http://www.genesreunited.co.uk


Researching:
Catch 22

Susan
Report
21 Sep 2012 10:38


Rollo

When I joined Genes back in 2006 I thought it was great ...I was new to Computers and did not know much about Genealogy so the site was very good for me .

Now ...... I tried the Chrome download and totally mucked that up so I am back to square one.

I will have to pay a Computer man money to bring me up to date and I should not have to....I really think Genes do not give a hoot about what they have done to this site.


To Answer your original question 2006

Researching:
Haycock ...London and Gloucestershire , Walters... South Wales and Gloucestershire , Lewis... South Wales , French ...Nottingham and Essex.

JustJohn
Report
21 Sep 2012 10:50

Don't know what "crawling on GRU" means, Rollo.

But, unless I am much mistaken, it seems to say site peaked in 2005, was most popular 2003-2007 and has not been picking up much traffic since 2007. Is that fair?

Researching:
Amelie my granddaughter's ancestry. My ban until 1 Jan 2021

RolloTheRed
Report
21 Sep 2012 12:16

No.

Wayback uses "crawlers" - a program which reads web sites and save the information for various purposes eg search (Google is basically a giant crawling machine which among other things has all posts to GRU ), archiving old web sites ...
The stats Wayback gives relate to the frequency of the crawling, not the use of the web site.

Despite what you may believe there has been no marked change in gru site traffic during the last few months according to well known sources for such data.


Researching:
Catch 22

Thelma
Report
21 Sep 2012 14:22

Depends how you measure.
Count the surviving threads on any board.
Find Ancestors
Page 0001 27/09/2012
Page 1001 28/03/2011
Page 2001 10/07/2010
Page 3001 17/11/2009
Page 4001 27/04/2009
Work it out. I think traffic has more than halved in a year.

JustJohn
Report
21 Sep 2012 17:32

Is site traffic number of hits? In which case, I can understand that this is still very high. A huge amount of info has been traded here over 8+ years and if you did a google search, you would almost certainly find something from this site. From ancestors of Genghis Khan to making lavender biscuits.

Certainlly, Thelma's stats hit home more with me. Dried up quicker than a coconut in the sun. But is that termed "traffic" by these marketing gurus?

Researching:
Amelie my granddaughter's ancestry. My ban until 1 Jan 2021

Kense
Report
21 Sep 2012 18:46

The problem with Thelma's method is that there was a big shake up of boards in May 2011, there were no Suggestions before that nor any FLR.

Also the drop off in messages occurs before the first (abortive) introduction of the new tree

Thelma
Report
21 Sep 2012 19:48

A lot of things contribute to loss of popularity.
People move on anyway.
Doubling the price of standard membership from £9.95 to £20
Altering Hot Matches
Altering Message centre
Losing the surname boards
Changing the tree
Being unable to delete from "My threads"
Being unable to delete access to others' trees.
Not receiving answers to messages
The list goes on.
I have known new members feeling let down by the claims:-

Membership Features Platinum Standard
View trees of over 10 million Genes Reunited members
Contact members who share your ancestors to discover your family history


Susan
Report
22 Sep 2012 05:23

Thelma ...totally agree with everything you said...you are spot on .

I for one will not be renewing my membership :-|

I am not happy about it as I have made a lot of very good friends on here but I joined because of the tree being so easy to use.

I am a member of Ancestry too,but did not put my tree there because it looked to hard but have since changed my mind.

Some of my message I sent to to genes this week.

" Please go to the suggestions boards and read some of the comments that
members are saying .
We are not hearing anything from you in response to any comments on the site or on the workings of the tree,the rest of the site is manageable but the tree is a complete hash
I have again fixed my own problem that should not have been there in the
first place.
I have loved Genes and enjoyed my time with you but you have destroyed a
perfectly good site with all the changes."

In there response they mention nothing about the boards and the upset all the changes have done, so I give up and have already anticked my auto renewal .

We are all just wasting our time ...they are not going to change anything ,I can't even see where they have turned down the brightness the site I had to do that my self on my screen.

sue :-(

Edit

Ken

What is the point of a suggestion Thread if they take no notice of the suggestions posted :-S

Researching:
Haycock ...London and Gloucestershire , Walters... South Wales and Gloucestershire , Lewis... South Wales , French ...Nottingham and Essex.

Kense
Report
22 Sep 2012 09:15

Susan, since the Suggestions board was started Genes' responses have been sporadic. There has been no change in that since the new threads were started a month ago. However they have taken notice from time to time and since May last year some very welcome improvements have been made .

GR have only a small staff and I expect their resources are stretched and concentrated on finding solutions to the serious problems some members are having, rather than making improvements.



Susan
Report
22 Sep 2012 10:04



I did not want them to make so called improvements .

I like it just the way it was and so do many others.

Oh well it won't be a problem when my sub ends anyway ...plenty of other site out there.

sue

Researching:
Haycock ...London and Gloucestershire , Walters... South Wales and Gloucestershire , Lewis... South Wales , French ...Nottingham and Essex.

Kense
Report
22 Sep 2012 15:38

Susan, it's worth trying your tree again as members using XP and IE8 have reported improvements on thread
http://www.genesreunited.co.uk/boards/board/genealogy_chat/thread/1310447


philmoir
Report
22 Sep 2012 16:12

Sorry, this may be considered one of these sporadic responses from myself, but please believe when I say that me and my dev team have been working very hard to make the right improvements for all users of the site. If I explain it this way. If we were Ford Motor Cars and after designing the Model T and everyone liked it but we decided job done no more changes we would be out of business. Change is inevitable, and we have to try and work out what is right for members and what is right to stay competitive in the online genealogy business. Some members like the change some dont. We have to try and cover both camps. The tree is now developing and improving far faster in terms of features and core functionality that ever before. It is worth rechecking every couple of weeks as fixes are being deployed as soon as they are ready. The main site has new features coming. And when we do make improvements to the boards I will be reviewing all the suggestions that have been made. We cannot please everyone but we are trying to give you a better genealogy site for both family history research and discussion.I hope you stay with us.

Researching:
I am the former lead developer for the Genes Reunited website team and the former lead developer of the Findmypast Tree team. I do not work for this company anymore. Disclaimer: The opinions expressed herein are my own personal opinions. My research areas of interest are East London, North-West Cumbria, North-East Scotland and Edinburgh.

Kense
Report
22 Sep 2012 16:34

Thank you Phil, it's good to know that progress is being made. Communications from you are always welcome.

JustJohn
Report
22 Sep 2012 17:42

Thankyou Phil As your new vehicle slides down the steep slope into the lake, it is good to see that you are working hard at making YOUR Ford faster and more competitive. :-(

Researching:
Amelie my granddaughter's ancestry. My ban until 1 Jan 2021

RolloTheRed
Report
22 Sep 2012 18:19

The Ford Model T was launched 1908. Production stopped 1927. Henry found that people liked it so much he made pretty well the same thing again and again and again, 15 million times. It worked and got cheaper. Small business grew up able to repaint the car in any color except black. All sorts of body adaptations, fire engine, police car and even a doctors coupe. My father even learned to drive on it, despite the weird controls. In the process Dearborn became the centre of one of the world's biggest companies and Dagenham was invented.

GRU was launched about 2006. Everybody liked it so the owners ( who had paid somebody else to create the software ) sold it to ITV at a serious profit. ITV paid a fortune to pay somebody else again to write new software. Everybody hated it but very soon the bad rabbits went away and everybody left loved it. The only trouble was that ITV were losing a shed load of money.

So ITV sold it too and booked a handy tax loss :-)

Next Chris van Kuyle, the software genius of the SNP and great buddy of Alex Salmond added GRU/FRU to his BrightSolid mini empire in Dundee under the aigis of the owners of the Beano.

Sure enough the make over itch got going. First to get the treatment was FRU aka Friends United. Now it is trying to become a sort of online scrapbook for Face book. (No? The what do you think it is trying to do.Why is there no tie in with GRU which has miserable support for media ? )

Flushed with the success (?) of the FRU makeover Bright Solid decided to sponsor Roots Web and launch a serious product into the US market, which has more or less vanished from view though it is still alive, sort of.

The upside of this was that Phil Moire and co. were so busy with the US project that GRU got put to one side and the next makeover put back. No worry, it has been achieved. Now we have lots of exciting new features such as (erm .... could somebody please fill in this bit) and ANY COLOR WE LIKE SO LONG AS IT IS NEARLY WHITE!!!

And a lot of people hate it. All these nasty bunnies will soon go away and the new product will once more be loved until the makeover itch scratches again. Or maybe not.

I guess the parallels with the Model T are bit of a stretch.
:-0

fwiw my pet peeve is that it takes so long to add a rellie to the tree I fall asleep with boredom and one of the cats goes to sleep in sympathy on the keyboard. When I wake up my tree has become the cats miaow. Wey heh.
;-)

Researching:
Catch 22

Annx
Report
22 Sep 2012 18:27

Philmoir I don't think you are really hearing what people say. No-one minds changes that improve things, but unless the people who are altering things know how we use the site they can make things worse.

Here is just one example I hope I can explain well enough. With the old tree I could put just a surname in the search box, click search and it would produce a list of all my rellies in my tree with that surname. I could then click once on any of them and it would go to that person in my tree. Without clicking again I could see enough of the connections to that person to see if I had the right one I was looking for. If it was the right one I would click again. If it was not the list was still open and I could scroll down the list to try another. With the new tree you can still type in just a surname to get a list, but as soon as you click on one, you lose the list and have to retype the name for every single trace you try to do. Time consuming, frustrating and a BACKWARD step.

I would love you to tell me how many like this particular change and think it is an improvement. :-|

Researching:
Staffordshire, Warwickshire

JustJohn
Report
22 Sep 2012 18:32

:-D :-D :-D Brilliant Rollo. Knew very little of background. But suspected somebody important was pulling our strings ;-)

Loved this site and never complained before last month. Just trusted people like Phil and Estelle to be aware of their customers and what we were thinking. And to at least partly be on our side.

But money and careers are far more importnhat than us plebs. :-( :-( :-(

Researching:
Amelie my granddaughter's ancestry. My ban until 1 Jan 2021

Simon
Report
22 Sep 2012 19:21

Well, we shouldn't shout down Phil too loudly. He has, at last, written something on one of these threads (though not actually replied on the Tree Suggestions thread, which is where we badly need to see some input from GR). We may not agree with what he says, nor with the reasoning behind it, but at least he has put his head over the parapet.

Now, as Annx says, Phil, you need to LISTEN to what users of the tree are saying - it's the new Tree that has caused all the upset. I never bothered with these boards until you screwed up the tree and made it worse than useless. There are just so many issues with trying to use it that it would take all day to explain them - but there's little point in wasting my time and energy unless you are prepared to take them on board and act on them.

Some are so very simple, like why on earth does upper case text default to lower case? I can see absolutely no 'marketing' reason why we can't choose to use upper case if we want. Others, such as Annx's problem are, I imagine slightly more problematic for you to solve, but, hey, you are the software experts; get on and solve them. To paraphrase what Annx says, it's a damned nuisance the way the search results are displayed now yet it was all so simple in the good old tree that we miss so dearly.

I don't have a problem with change as long as the result is fit for purpose. Clearly, from the huge range of comments and suggestions, the new tree is not fit for purpose. Yes, there were always issues with the old tree and you say that you are overcoming them in the new one but you've now introduced so many new problems that the old issues become insignificant by comparison.

Maybe if you listen to what the tree users are telling you, you will actually end up with a market-leading product. After all, the combined user experience making suggestions must be hundreds of years (just look at how long the posters have been menbers...).

Simon
Report
22 Sep 2012 19:30

Wow, sombody has at last listened to all the complaints about the Save box being off the screen. A big Thank You. :-D

It's only taken 2 months (or is it 3, feels like forever) to get it moved and fixed to the window. :-S

Now let's get down to some of the other issues...