New Scottish Census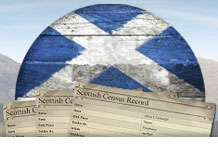 Do you have Scottish ancestors?
Perhaps you do and you just didn't know! Search our brand new Scottish census records today and discover if you have Scottish roots.
Uma joins Victorian baby name craze
Laundry man from Lancashire named daughter after every letter in alphabet
Bizarre names discovered include Danger, Hero and Love
If you think Uma Thurman's child may resent being called Rosalind Arusha Arkadina Altalune Florence Thurman-Busson spare a thought for the daughter of a laundry man from Lancaster who, in 1882, named his child after every letter in the alphabet.
Ann Bertha Cecilia Diana Emily Fanny Gertrude Hypatia Inez Jane Kate Louisa Maud Nora Ophelia Quince Rebecca Starkey Teresa Ulysis Venus Winifred Xenopher Yetty Zeus was born on the 19th December 1882 to parents Arthur and Sarah Jane Pepper.
Historians at the family history website genesreunited.co.uk uncovered the birth certificate of this unusual name. They also found people with names including Danger, Hero and Love. The site contains over 780 million names listed with birth, marriage and death records dating back to 1837 and allows people to look back into their own family history to see what whacky names their ancestors had.
Rhoda Breakell, head of genesreunited.co.uk said: "Looking back in history the celebrity trend of giving their children bizarre names, is not a new phenomenon. Once you begin looking back through history you can unearth all sorts of names. We found a 'Love Child' who was born in the early 20th century, the reason for his name remains a mystery."
Danger is my middle name
'Danger is my middle name' was most famously said by James Bond and Austin Powers, but the 1911 Census suggests men and women 100 years ago probably said it too. Alfred Stephen Danger Wood was a chauffeur from Pimlico - would people have dared ride in a vehicle with him?
Hero by name, hero by nature?
Trawling the records found Hero which is another unusual choice of name, particularly when paired with a second wacky forename such as one chap in the 1911 Census called Hero Bear Rose from Westminster. A dentist by profession, you could say Hero Bear Rose was a hero to some, but possibly a villain to others.
TV star Myleene Klass named her daughter Hero, apparently choosing the name after a character from Shakespeare's Much Ado About Nothing. Perhaps many of us will follow in Myleene's and our ancestors' footsteps by opting to give unusual first and middle names to our children.
Also discovered in the records was Postman Walter Love Barnes from Cornwall. Hopefully Walter was as lucky in love as his middle name might suggest.
"How parents choose a middle name for their child is a fascinating journey through history and here we have some wonderful examples of real imagination being used. It will be interesting to see if the nation continues to adopt a creative flair for middle names and how these will evolve over the next 100 years," said Breakell.
- Ends -
Notes to editors:
All entries taken from the 1911 census records which can be found on genesreunited.co.uk Images of records available
Notes to the Editor - About Genes Reunited
Genes Reunited was launched in 2002 as a sister-site to the Internet phenomenon Friends Reunited. Since then it has grown to become the UK's largest genealogy website.
It marked a revolution in genealogy and ancestry by combining them with Internet social-networking. Members are able to build their family tree by posting it on the site and investigating which ancestors they share with other members. They can also search historical records such as census, birth, death, marriage and military records.
It currently has over 11 million members and over 750 million names listed. One new name is added to the site every single second.