New Scottish Census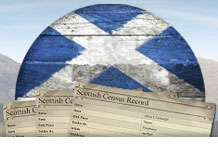 Do you have Scottish ancestors?
Perhaps you do and you just didn't know! Search our brand new Scottish census records today and discover if you have Scottish roots.
A treasure trove of ship passenger records go online
A two year old Elizabeth Taylor, and a 56 year old Alfred Hitchcock found in the records
24 million passengers who travelled on long-distance journeys from UK ports
Records cover the period of mass migration to Australia between 1947-1960
From today people will be able to view passenger lists online at UK family history website, www.genesreunited.co.uk. The lists include people onboard ships departing British ports for long-distance voyages across the world from 1890 to 1960.
The passenger list records offer a range of information from simply the passenger's name and age, to much more detailed information; the departure and destination ports, the ship's name, date of travel as well as actual descriptions of the passengers themselves, such as, UK address, year of birth, marital status, occupation and nationality. Through these records it is possible to find some truly unique information about ancestors who voyaged overseas.
As well as the range of detail that can be found in these records, there are also some famous names which can be discovered, in particular Hollywood royalty such as a two year old Elizabeth Taylor, a 56 year old Alfred Hitchcock, a 22 year old Audrey Hepburn and finally a four year old Olivia Newton-John who was on her way from London to Australia.
Some shipping lines produced passenger lists in duplicate or even triplicate for the Board of Trade. This means that there can be two or even three originals of some of the passenger lists within the BT27 series. Such duplicates were written out again by hand (not produced using carbon paper). The differences between these different copies of the same list are usually cosmetic but there are sometimes also minor differences in content or in the Board of Trade's annotations or stamps upon them.
These duplicate lists have been scanned to preserve the integrity of the BT27 dataset. Researchers should note that this means that occasionally you may see two entries for the same individual which correspond to two different original copies of the same list.
A solution is being designed so that customers will only be charged once for the information contained within these duplicate pages.
The passenger records cover the period of mass migration to Australia between 1947 and 1960 when an estimated 710,000 people travelled there from Great Britain. This 'golden age' of migration to Australia was prompted by the launch of the Government's 'Ten Pound Pom' scheme to encourage Britons to emigrate to Australia and enhance the nation's skilled workforce driving its economy forwards.
Similarly to today, the records reveal a high number of retirees also travelled to Australia to spend the rest of their lives in the sun, with 17,385 retirees emigrating from the UK during the 1950s. Furthermore, 140,511 housewives travelled to Australia in the same decade. The records also show that there were 58 divorcees and 215 widowers listed who may have journeyed to the country to make a fresh start.
Rhoda Breakell, head of Genes Reunited, comments: "The wealth of passenger list records now available on Genes Reunited is an invaluable resource for people tracing relatives they believe may have left the UK from 1890 onwards. The passenger records may very well provide a missing link for many family historians who have hit a brick wall in their research, as well as helping those outside of the UK to trace back to their British and European heritage."
The easily-searchable and user-friendly database will enable would-be genealogists and family historians alike to view digitised images of the original ship passenger records online, which contain over 1.1 million pages, listing the 24 million passengers who travelled on long-distance journeys from UK ports.
Notes to the Editor - About Genes Reunited
Genes Reunited was launched in 2002 as a sister-site to the Internet phenomenon Friends Reunited. Since then it has grown to become the UK's largest genealogy website.
It marked a revolution in genealogy and ancestry by combining them with Internet social-networking. Members are able to build their family tree by posting it on the site and investigating which ancestors they share with other members. They can also search historical records such as census, birth, death, marriage and military records.
It currently has over 11 million members and over 750 million names listed. One new name is added to the site every single second.