New Military Records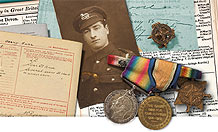 Was your ancestor a war hero?
View thousands of brand new military records, including Chelsea Pensioner records, Military Nurses, Prisoners of war and much more.
Don't park Granny on the sofa
A Christmas Appeal from Friends Reunited
An appeal not to park elderly relatives alone on the sofa this Christmas has gone out from Friends Reunited.
Families are being urged to positively encourage grandparents to reminisce about the 'good old days' after the turkey and mince pies!
The appeal follows new research for the website's family history service Genes Reunited that reveals only 1% of people in Britain can name all eight of their great grandparents. More than a third can't name any of them.
Even more (60.1%) have no idea what any of them did for a living. And a third (33.1%) don't know where any of them lived.
Yet 96 per cent of the people surveyed say that knowing their family tree is 'important' to them.
Steve Pankhurst, founder of Genes Reunited, said: "Please don't park your granny in a corner with a glass of sherry this Christmas. Ask her to help fill in your family tree instead.
"Many of us reach for the TV volume control when our grandparents start to reminisce about the good old days. But given time, I promise, you'll wish you'd paid more attention.
"Sorry to be depressing, but some half a million British people over 65 will not be around this time next year. And if they don't pass on the most basic facts about their parents and grandparents, it will put years on other families' efforts to trace their histories."
Genes Reunited has become the biggest family history site in the UK. It links different families' histories together in the same way as Friends Reunited connects old school friends.
Anthony Adolph, an expert genealogist who has studied family ancestry for over fifteen years, explained: "Tracing family history is usually a laborious and frustrating process. But if enough people enter what information they know about their families into internet sites, before long all our connections will join up.
"It'll be genealogy's version of turning on the Christmas tree lights."
Last year, thanks to family gatherings, Christmas Day and Boxing Day proved the most popular days of the year for additions to family trees on the Genes Reunited website.
Christmas research
More than 1,800 UK adults between 18 and 66-plus were surveyed in the first week of December to find out how much people know about their eight great grandparents.
The research revealed that:
36.8% can't name any
53.9% can only name one
1.5% can name all eight
60.1% don't know what any of them did for a living
76.2% only know what one of them did for a living
33.1% don't know where any of the four sets lived
54% only know where one of the four sets lived
Adolph commented: "The responses are remarkably consistent throughout the age ranges. People over 65, who you'd think would be more knowledgeable, don't appear to know significantly more than 18 year olds about their respective great grandparents.
"Mind you, there's a case for saying that 18 year olds should know more as their great grandparents would have been around more recently."
To help families start their family trees Genes Reunited has created a printable tree specifically for use over Christmas. It's even more fun than Monopoly and can be downloaded at www.genesreunited.co.uk
Notes to the Editor - About Genes Reunited
Genes Reunited was launched in 2002 as a sister-site to the Internet phenomenon Friends Reunited. Since then it has grown to become the UK's largest genealogy website.
It marked a revolution in genealogy and ancestry by combining them with Internet social-networking. Members are able to build their family tree by posting it on the site and investigating which ancestors they share with other members. They can also search historical records such as census, birth, death, marriage and military records.
It currently has over 11 million members and over 750 million names listed. One new name is added to the site every single second.