New Scottish Census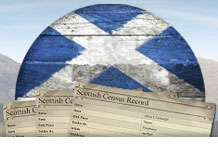 Do you have Scottish ancestors?
Perhaps you do and you just didn't know! Search our brand new Scottish census records today and discover if you have Scottish roots.
Best of British grandmothers unveiled and honoured
After a nationwide search, the nations favourite and best-loved grandmother was today named 'Britains Greatest Granny by Britains number one genealogy website, Genes Reunited.
Doreen Cowman, 75, from Clitheroe, Lancashire has been awarded the prestigious title of Britains Greatest Granny after a close contest which resulted in a win for Doreen and nine runners-up.
By comparison, just 20% of women in their 50s, 17% of those in their 60s and 15% of females in their 70s, claimed to have lost more than 26 friends throughout their lives.
Doreen and the runners-up have been dubbed the 'best of the best by their respective families that include a combined number of 238 offspring between them.
Doreen was nominated by her granddaughter, Sophie, because of her amazing verve, and her unfaltering love for her family. She has proven to be a rock for all members of her family and although she is now in her mid-seventies, her family admire her for doling out grandmotherly wisdom which goes hand-in-hand with her joie de vivre. Taking advancing technology and a newly found love of travel in her stride, Doreen is keen to try new things, including quad biking in the Egyptian desert at the age of 74 - proving to be hardier than the notorious Ozzie Osbourne who crashed his quad bike in his own back garden! The time and effort taken by Sophie to lovingly compose a poem for her grandmothers nomination demonstrates the extent of the familys admiration for Doreen.
Britains grandmas represent the backbone of many a family and those put forward as the 'best demonstrate unswerving commitment, love and support for their families and others, making a real difference to the lives of those who nominated them. These ladies are always ready to give grandchildren a cuddle or treat, their cups of tea are legendary, and their time-honoured wisdom is doled out in spades - and time-honoured it certainly is, considering their collective ages tot up to 714 years!
Four grandmothers were chosen as joint second-place winners as their entries were deemed very close and all deserving of recognition as follows:
Joyce Thorneycroft, 81, from East Hunsbury, Northampton
June Frost, 70, from Stoke-on-Trent
Alice Keeley, 92, from Hindley Green, Wigan
Eunice Brown, 109, from Gateshead, Newcastle
In third place, again because the entries were so deserving, making it impossible to pick just one, are:
Vera Ebdon, 87, from Pontefract, West Yorkshire
Sarah Ann Wilson, 56, from Girvan, Scotland.
Edna Atkin May, 76, from Reading, Berkshire
Irene Crist, 68, from Kimnel Bay, Rhyl
Sadie Flynn, 93, from Mauchline, Ayrshire
Martine Parnell, Head of Genes Reunited who led the judging panel, said: "Choosing grandmothers whose merits are all so different but equally wonderful verged on being impossible, but a clear winner emerged. Doreens nomination stood out immediately and she fully deserves to be called 'Britains Greatest Granny. All of the finalists selected are absolutely amazing women whose contributions we wanted to recognise."
Doreens nomination stood out because of her resilience, her strength, and her aptitude to new technology and new concepts. Her family say that her energy and love-of-life almost equals that of her fourteen year-old granddaughter. Coupled with this, she always has time to listen and talk to her family. She ticked every box for the judges, and more besides and this was confirmed when Sophie, Doreens nominator said "Im really pleased, its great - she really is the greatest gran ever."
As well as being known as 'Britains Greatest Granny, Doreen and those in second place receive a luxury family Christmas hamper and Christmas tree. But, perhaps more important than the prize, these women represent a distinct and exclusive group of unsung heroines who command love, respect and admiration from all who know them.
Parnell continued: "These women are from an older generation who have one thing in common - theyre all a pillar of strength for the whole family and have in many cases contributed significantly to their communities in unassuming ways. Honouring them in this way will hopefully show just how appreciated they really are."
The panel of judges really had their work cut out for them; working from carefully selected criteria allowed each granny to be equally judged and ten winners were selected. As each grandmother who was put forward is loved and admired by their families, and is clearly a wonderful woman with her own unique talents and abilities, this was no easy task. The panel exercised a great deal of thought, taking into account the multitude of backgrounds, varied and colourful upbringings and instances of adversity that have been overcome by the women concerned.
Parnell continues: "The ethos behind Genes Reunited is very much about bringing families together, either by helping them discover new family members, or by giving people the opportunity to learn about their past. True to this idea, the 'Britains Greatest Granny search aimed to draw families closer at a time when family is very much top of mind for most. The wonderful thing about this competition is that everyone is a winner - not only the grandmothers who receive the prizes, but also their relatives who are lucky enough to have such wonderful women in their family."
Notes to the Editor - About Genes Reunited
Genes Reunited was launched in 2002 as a sister-site to the Internet phenomenon Friends Reunited. Since then it has grown to become the UK's largest genealogy website.
It marked a revolution in genealogy and ancestry by combining them with Internet social-networking. Members are able to build their family tree by posting it on the site and investigating which ancestors they share with other members. They can also search historical records such as census, birth, death, marriage and military records.
It currently has over 11 million members and over 750 million names listed. One new name is added to the site every single second.