New Military Records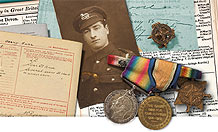 Was your ancestor a war hero?
View thousands of brand new military records, including Chelsea Pensioner records, Military Nurses, Prisoners of war and much more.
England team's winning formula: an architect, sculptor & dentist
Genesreunited.co.uk uncovers the lives of the Olympic winning England football team of 1912
Winning team included a sculptor, an architect and a dental surgeon
As Roy Hodgson's men prepare to face Italy in the Quarter Finals of Euro 2012, perhaps they should take inspiration from the sculptor, architect and dentist who played for the winning England team of 100 years ago.
Analysis of 1901 and 1911 Census records and research into the lives and careers of the Olympic winning England team of 1912 by genesreunited.co.uk, the family history website, reveals it is pride and passion rather than multi-million pound wages that win tournaments.
Amateur earnings
In 1912 there were no European Championships or World Cup fixtures, so the Olympic Games were the main stage for international football and the England team represented the whole of Britain. Even the best football professionals had to work with a weekly cap of £4 per week, roughly £228 in today's money, but as amateurs with other day jobs the England team wouldn't have been paid at all - still that didn't stop them winning gold and glory.
Rhoda Breakell, head of genesreunited.co.uk, said: "It's amazing how much international football has changed since 1912. The players used to have professions and careers away from the pitch, and none of them made any money from football, so they were certainly playing for the passion rather than the wage. Hopefully in the international tournaments 100 years on, England will show the same passion and repeat their success with winning performances in Poland and the Ukraine."
Professional performers
Gordon Hoare was the star striker, or 'Wayne Rooney of 1912', and scored two goals on the road to international glory, but was in fact a sculptor by trade.
Supporting him up front in striking position was Arthur Berry, an award-winning Oxford graduate who left behind a promising career in football to become a soldier and then a barrister. They were supported by goalkeeper Ronald Brebner, who was a dental surgeon and a skilled professional who clearly had a safe pair of hands on and off the field.
The winning team was captained by Vivian Woodward, a successful architect and surveyor who banged in the goals for Tottenham Hotspur and England on an amateur basis, and led by Coach Adrian Birch, a former ship yard labourer who left the docks to became a full time football trainer.
Breakell added: "It's amazing what you can learn about society by looking through the Census records and the picture painted of life at that time. Who would have thought the Wayne Rooney of 1912 was a sculptor by day? Clearly he was good with both his hands and feet! 100 years on and again we cheer, come on England!"
The England team of 1912 emerged victorious after beating Hungary 7-0 in the quarter finals, beating Finland 4-0 in the semis and Denmark 4-2 in the final - results Roy Hodgson would love to replicate 100 years on.
Notes to the Editor - About Genes Reunited
Genes Reunited was launched in 2002 as a sister-site to the Internet phenomenon Friends Reunited. Since then it has grown to become the UK's largest genealogy website.
It marked a revolution in genealogy and ancestry by combining them with Internet social-networking. Members are able to build their family tree by posting it on the site and investigating which ancestors they share with other members. They can also search historical records such as census, birth, death, marriage and military records.
It currently has over 11 million members and over 750 million names listed. One new name is added to the site every single second.