Gift subscriptions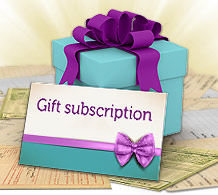 Do you know someone interested in discovering their family history?
You can now buy a gift subscription to Genes Reunited so they can research their family tree.
World Exclusive: Historians predict royal baby will be born on 27th august 2013
GenesReunited historians use marriage and birth records to predict the date of William and Kate's first child
Amidst all the gossip and speculation, a team of historians from genesreunited.co.uk, the family history website, have predicted the birth of the Duke and Duchess of Cambridge's first child will be on the 27th August 2013.
Analysing birth and marriage records of the Royal family from the past 100 years, genesreunited.co.uk has calculated 851 days is the average period between a Royal wedding and the arrival of a Royal baby. Conception would therefore be around Christmas this year.
Rhoda Breakell, head of genesreunited.co.uk said: "There's certainly been a lot of speculation about when the arrival of a Royal baby might be; the bookies are even taking bets on names. William and Kate have spoken about their desire to start planning for a family, so make sure that you put the 27th August 2013 in your diaries, we have a good feeling about this one!"
A history of Royal births
The shortest period between a Royal wedding and a Royal baby was that which followed the wedding of HRH Princess Patricia of Connaught and Capt. Alexander Ramsay on 27th February 1919. The newly-wedded couple had their first child, Alexander, only 298 days later. In contrast, the longest period of time was that which followed Prince Henry's marriage to Lady Alice Montagu-Douglas-Scott on 6th November 1935; they made the nation wait 2235 days before the birth of their son William on 18th December 1941.
| | | |
| --- | --- | --- |
| Wedding date | Royal couple | Days before birth of first child |
| 21/12/1919 | Princess Patricia of Connaught and Capt. Alexander Ramsay | 298 days (Alexander) |
| 28/02/1922 | Princess Mary and Viscount Lascelles | 345 days (George) |
| 26/04/1923 | King George VI and Elizabeth Bowes Lyon | 1092 days (Elizabeth) |
| 29/11/1934 | Prince George and Princess Marina of Greece and Denmark | 315 days (Edward) |
| 6/11/1935 | Prince Henry and Lady Alice Montagu-Douglas-Scott | 2235 days (William) |
| 20/11/1947 | Queen Elizabeth and Prince Philip | 361 days (Charles) |
| 6/05/1960 | Princess Margaret and Anthony Armstrong-Jones | 547 days (David) |
| 14/11/1973 | Princess Anne and Captain Mark Phillips | 1463 days (Peter) |
| 29/07/1981 | Prince Charles and Princess Diana | 358 days (William) |
| 23/07/1986 | Prince Andrew and Sarah Ferguson | 748 days (Beatrice) |
| 19/06/1999 | Prince Edward and Sophie Rhys-Jones | 1604 days (Louise) |
| 29/04/2011 | Prince William and Kate Middleton | Prediction of 851 days and baby name to be confirmed |
So what does one call one's Royal bundle of joy?
As Royals in line to the throne, William and Kate's baby will need a name worthy of a King or Queen, but could Kate's 'commoner' background have influence? Analysis of the prevalence of previous royal family names, and those in Kate's family reveal some possible options the young couple might be considering:
| | |
| --- | --- |
| Girls names | Boys names |
| Carole | Charles |
| Elizabeth | George |
| Mary | Henry |
| Philippa | James |
| Victoria | Michael |
Breakell added: "It'll be interesting to see if William and Kate choose a modern name or a more traditional one like their ancestors before them. Royal weddings and Royal births are big events, so one thing we can be sure of is there will be a national celebration when Baby Windsor does arrive."
Notes to the Editor - About Genes Reunited
Genes Reunited was launched in 2002 as a sister-site to the Internet phenomenon Friends Reunited. Since then it has grown to become the UK's largest genealogy website.
It marked a revolution in genealogy and ancestry by combining them with Internet social-networking. Members are able to build their family tree by posting it on the site and investigating which ancestors they share with other members. They can also search historical records such as census, birth, death, marriage and military records.
It currently has over 11 million members and over 750 million names listed. One new name is added to the site every single second.