New Military Records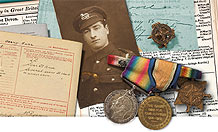 Was your ancestor a war hero?
View thousands of brand new military records, including Chelsea Pensioner records, Military Nurses, Prisoners of war and much more.
Top ancestry website Genes Reunited appoints new head
Genes Reunited, the UK's largest ancestry website and sister site of the internet phenomenon Friends Reunited, has appointed Martine Parnell as its new head. Martine replaces Michelle Barker who, after helping build the site from 650,000 members at the end of 2003 to 2.2 million by the end of last year, is returning to her native US.
Reporting to Marketing Director Tim Ward, Martine will be responsible for all aspects of the day-to-day running of the genealogy site, from driving site traffic to developing the overall business strategy including international expansion. She will direct marketing campaigns for the site and work with the design and technical team on fresh ideas to bring family tree research to the masses, breaking down popular misconceptions that the hobby is specialist and academic.
Martine joins the company from the Financial Times, where she was EMEA Senior Marketing Executive for the newspaper and FT.com website in Europe, Middle East and Africa, devising and implementing on and offline marketing strategies.
Ward said: "Genealogy is becoming a national craze as the number of people interested in the subject is growing far faster than anyone had ever anticipated. The number of Genes Reunited members has nearly quadrupled from a year ago and the number of relatives listed has soared from 7.3 million to more than 25 million, with two names now being added every second.
"Martine's role is to build on this growth, market its appeal to a wide audience and enhance the site by adding new services.
"Michelle has done a fantastic job and we wish her well in her move back home."
Notes to the Editor - About Genes Reunited
Genes Reunited was launched in 2002 as a sister-site to the Internet phenomenon Friends Reunited. Since then it has grown to become the UK's largest genealogy website.
It marked a revolution in genealogy and ancestry by combining them with Internet social-networking. Members are able to build their family tree by posting it on the site and investigating which ancestors they share with other members. They can also search historical records such as census, birth, death, marriage and military records.
It currently has over 11 million members and over 750 million names listed. One new name is added to the site every single second.