New Scottish Census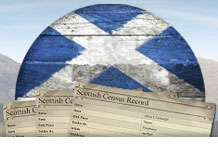 Do you have Scottish ancestors?
Perhaps you do and you just didn't know! Search our brand new Scottish census records today and discover if you have Scottish roots.
Genes Reunited wins Hitwise top 10 award
Genes Reunited, has ranked first in the Lifestyle-Family category based on the market share of UK visits it has received throughout 2006.
The Hitwise UK Online Performance Awards celebrates the most successful UK websites in 50 key selected industries. As Hitwise reports on the anonymous online usage and search behaviour of more than 8.43 million UK Internet users – the largest online sample of its kind - this unique awards programme recognises excellence in online performance through public popularity.
Genes Reunited is the UK's largest genealogy and ancestry website, with over 6 million members worldwide. It connects members with their extended family through the sharing of information, enabling users to graphically build their own family tree, explore their family history and potentially connect with living relatives.
Martine Parnell, head of Genes Reunited said, "Genes Reunited has succeeded in making family history easy, fun and accessible to everyone on the internet. Our 6.8 million members use our online family tree software to contribute to our genealogy community – working together to uncover their roots."
Hitwise UK said, "The online success of Genes Reunited is a fantastic achievement. As Hitwise measures over 800,000 websites, being one of the most popular websites visited by UK Internet users demonstrates the strength of Genes Reunited's online marketing success."
Notes to the Editor - About Genes Reunited
Genes Reunited was launched in 2002 as a sister-site to the Internet phenomenon Friends Reunited. Since then it has grown to become the UK's largest genealogy website.
It marked a revolution in genealogy and ancestry by combining them with Internet social-networking. Members are able to build their family tree by posting it on the site and investigating which ancestors they share with other members. They can also search historical records such as census, birth, death, marriage and military records.
It currently has over 11 million members and over 750 million names listed. One new name is added to the site every single second.