New Scottish Census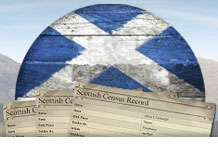 Do you have Scottish ancestors?
Perhaps you do and you just didn't know! Search our brand new Scottish census records today and discover if you have Scottish roots.
One in four Brits searches for long-lost family online
Genes Reunited's latest figures prove Britain's booming interest in ancestry
With Who Do You Think You Are on TV screens around the nation, Genes Reunited, the UK's biggest genealogy site, today reveals the extent to which family history has taken hold of the British imagination.
Genes Reunited is the UK's biggest genealogy site, with over 9 million registered members - one in four of the UK's adult online population. Its archives include over 500 million individual names, with a new one added every second. Genes Reunited is owned by ITV along with sister sites Friends Reunited and Friends Reunited Dating.
In a single day more than 480,000 individual names were added to the site, demonstrating the level of enthusiasm among the Genes users.
Martine Parnell, head of Genes Reunited, comments: "The hunger to find out who we are and where we come from has never been stronger across Britain. The internet makes it easier than ever before to uncover your family history or track down a family member you've lost touch with. It's a subject that fascinates us all and our members range from novices finding out about their family through to amateur heritage researchers and even experienced genealogists. The site has created a thriving community connected by a shared interest in finding out where they came from."
A few fast facts about Genes Reunited:
Unique users to Genes Reunited in the month of June rose 71% on May 2008 to 1.8 million
There were 198,000 new registrations in June taking the site to a 54% market share
In addition to the millions of official records (census, birth, marriage and death) the site has just reached 170 million names in its family trees
Members spend on average 10 minutes and 31 seconds on the site each time they visit - the highest ever level for Genes Reunited
During the Patsy Kensit episode of Who Do You Think You Are 1000 people registered on Genes Reunited in one hour
There are 1.3 million 'Smiths' on Genes Reunited and the largest family tree created on the site holds 149,787 members
The largest audience, by sector, is women in their fifties
Genes Reunited is the sister site to social network Friends Reunited and dating site Friends Reunited Dating
The site's easy-to-use format enables people to build their own family tree and find matches in other members' trees to discover a family connection. Users can input the names of known family members and Genes Reunited will search the 9 million family trees already on the site and highlight any similar entries in other people's trees - making tracing your family's roots easier than ever before. The site is entirely free to search with subscription fees applicable once users want to contact each other directly or access official records (including birth, marriage, death and war) through the site.
Notes to the Editor - About Genes Reunited
Genes Reunited was launched in 2002 as a sister-site to the Internet phenomenon Friends Reunited. Since then it has grown to become the UK's largest genealogy website.
It marked a revolution in genealogy and ancestry by combining them with Internet social-networking. Members are able to build their family tree by posting it on the site and investigating which ancestors they share with other members. They can also search historical records such as census, birth, death, marriage and military records.
It currently has over 11 million members and over 750 million names listed. One new name is added to the site every single second.