New Military Records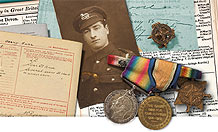 Was your ancestor a war hero?
View thousands of brand new military records, including Chelsea Pensioner records, Military Nurses, Prisoners of war and much more.
Genes Reunited adds 1 million military records to its database
Military records for one million deaths of World War One and World War Two servicemen have been added to Genes Reunited as the UK's largest genealogy website expands its data records service.
The site has grown dramatically since its launch in May 2003 and now has over eight million members and 500 million names listed, with one name being added every second of every day. The addition of the military records will offer Genes Reunited members a unique insight into their ancestors' lives.
Martine Parnell, Head of Genes Reunited, said: "We found that as the site grew our members were discovering more and more links in their family trees and so their thirst for more detail on their ancestors grew too. Responding to their requests for additional records, we looked at ways that we could add to this service to effectively create a one-stop-shop for anyone wanting to research their family tree."
"It's likely to be an emotional journey as members start uncovering how their veteran ancestors met their fate, whether it was fighting in the trenches during World War One or flying a Spitfire during World War Two."
The new data is accessible via the 'Search Records' tab at the top of the homepage. Members input a name and are presented with results from across the census, birth, death, marriage and military records. For members who know exactly what they are looking for, there is an option to purely search within any single data set including World War One and World War Two deaths.
Genes Reunited member Frank Poulton has been researching his family history for a number of years and is keen to ensure that the brave soldiers who lost their lives fighting for their country are not forgotten.
Frank's Great-Grandfather William Reader was with the 6th battalion, Black Watch (Royal Highlanders) and died in Beaumont-Hamel, France during World War One.
Frank's Grandfather, Harry Mellor married William Reader's daughter but he too was a soldier and was tragically killed on 16th July 1944 during World War Two. Among some of Frank's most treasured possessions are the photographs of his Grandfather's.
As with all records on Genes Reunited, it is free to search and view basic military results.
To view detailed transcribed information and the original scanned images, credits can be purchased in £5 denominations (giving 50 credits) and last for seven days. During this time, members can view details of their ancestors and download the original index for three credits each. Once a document has been downloaded, it can be viewed repeatedly within those seven days at no extra cost.
Notes to the Editor - About Genes Reunited
Genes Reunited was launched in 2002 as a sister-site to the Internet phenomenon Friends Reunited. Since then it has grown to become the UK's largest genealogy website.
It marked a revolution in genealogy and ancestry by combining them with Internet social-networking. Members are able to build their family tree by posting it on the site and investigating which ancestors they share with other members. They can also search historical records such as census, birth, death, marriage and military records.
It currently has over 11 million members and over 750 million names listed. One new name is added to the site every single second.